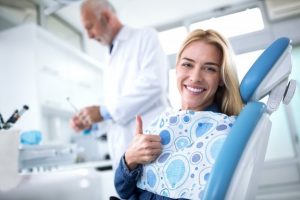 Whether you're there for preventive, cosmetic, or restorative care, a visit to your dentist in Temple often results in good things for your pearly whites! But did you know that regular preventive dental care can also greatly benefit your wallet? Here are three ways that visiting the dentist can actually save you money in the long run, especially if you have dental insurance.
1. It Detects Underlying Oral Health Issues Early On
There's a good reason you should visit your dentist twice a year for preventive care; these routine checkups play a crucial role in preventing oral health issues like tooth decay, cavities, gum disease, and more from escalating into serious problems! Without the intervention of your dentist, many of these issues can result in total tooth loss! Not only that, but these issues are also expensive to treat compared to the cost of preventive dental care; something like a dental filling will always run cheaper than root canal therapy!
Of course, one of the most severe issues that your dentist must check for is oral cancer. They'll inspect your mouth, neck, throat, and oral tissues for any abnormalities or signs of this deadly disease. Since it progresses so quickly, missing even a single appointment could end up being the difference between being able to easily treat the cancer versus needing intensive, expensive treatment. In short, visiting your dentist biannually will help to prevent giant spikes in your monthly budget due to unexpected dental costs.
2. It Prevents & Minimizes Teeth Staining
Regularly visiting the dentist doesn't just prevent oral health problems from developing; it also mitigates aesthetic flaws such as mild staining! At the end of your visit, your dentist wraps up by polishing your teeth with a special substance called prophylaxis paste. This safe, gritty material breaks apart surface stains on your teeth caused by things like coffee, red wine, soy sauce, and more. This won't undo severe staining—but it will help you dodge some of the cost of repeated cosmetic treatments down the road.
3. It Lets You Utilize Your Dental Insurance Benefits
If you've wisely invested in your smile with dental insurance, you should know that most plans cover the cost of preventive care! You should also know that your benefits are set to expire at the end of the calendar year—meaning that any unused benefits won't roll over. By visiting your dentist for preventive care, you're making the most of your insurance benefits! Plus, more often than not, insurance will not cover the full cost of restorative treatment options that are used to address serious oral health issues.
If you think it'll be cheaper in the long run to skip your biannual dental visits, think again! Be sure to visit your dentist before the year ends; their team can also work with you to ensure that you're maximizing your benefits based on your plan.
About the Author
Dr. Richard Fossum received his dental doctorate from the University of Texas Dental Branch – Houston and is a proud member of several professional organizations, including the American Dental Association, the Texas Dental Association, and the notable Academy of General Dentistry. His practice in Temple is pleased to offer many services including preventive, cosmetic, and restorative options. If you have any questions about the article or would like to schedule a visit, you can contact the practice online or over the phone for assistance: (254) 778-3900.