Gum Disease Treatment – Temple, TX
Have Bleeding, Swollen Gums? We Can Help
You may have periodontal disease and not even know it. According to the CDC, 47.2% of adults aged 30 years and older have some form of periodontal disease. At Richard Fossum, DDS, we do our utmost to provide early gum disease diagnosis during twice a year dental checkups and teeth cleanings. If we diagnose gum disease, our dental hygiene team delivers non-surgical options for gum disease treatment in Temple, TX to preserve your oral health, as well as LANAP laser gum surgery performed by Dr. Fossum himself.
Why Choose Richard Fossum, DDS for Gum Disease Treatment?
Arestin Antibiotics Available
LANAP Laser Treatments
Patient is Always Number One
What is Periodontal Disease?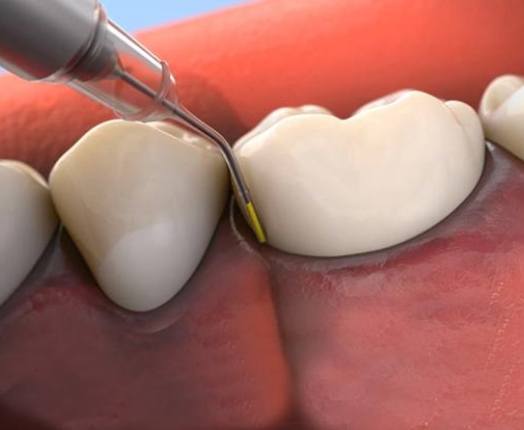 According to the American Academy of Periodontology, periodontal disease, also known as gum disease, is a serious inflammatory disorder that, left untreated, can lead to tooth loss. The word periodontal literally means "around the tooth." Periodontal disease is a chronic inflammatory disease that affects the gums and bone supporting the teeth. This disease can affect single or multiple teeth. It begins when bacteria in plaque causes the gums to become inflamed.
Periodontal Disease Treatments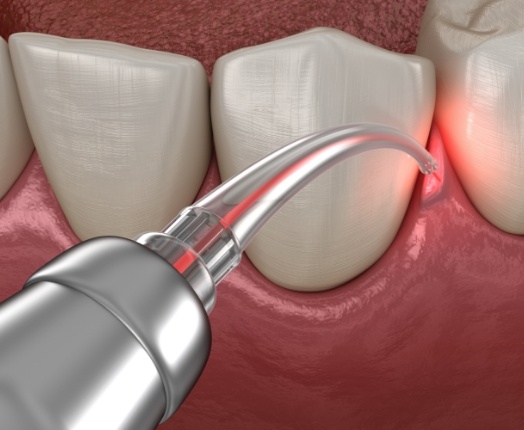 We often treat early and mid-stage gum disease with a scaling and root planing by one of our skilled hygienists and with a more thorough at-home regime. Meanwhile, moderate cases of gum disease often respond well to topical antibiotic treatment called Arestin.
In more advanced cases Dr. Fossum uses a laser periodontal therapy, called LANAP, to remove bacteria and diseased gum tissue. LANAP stands for Laser Assisted New Attachment Procedure and is an FDA-approved treatment for periodontitis. Dr. Fossum is a certified LANAP provider, which means he has undergone rigorous training for this revolutionary therapy.
How Does Arestin Work?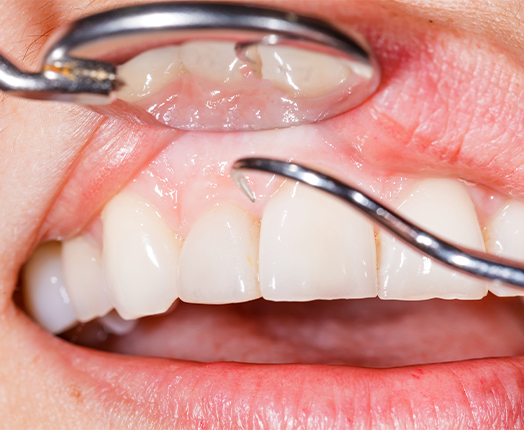 As part of our therapy for periodontal disease, we have an effective treatment called Arestin that helps us control the infection in your mouth. Arestin is used together with scaling and root planing to significantly reduce the depth of the infected pockets and prevent the progression of the disease.
Arestin is an antibiotic in powdered form. After scaling and root planing, we apply the powder to your periodontal pockets, where it combines with moisture in your mouth and adheres immediately to the infected gum tissue. The individual powder particles release a controlled, steady flow of the active ingredient, minocycline, a potent antibiotic. The medication helps fight your periodontal infection for at least 21 days.
Arestin may not be right for you so please discuss your medical history with your hygienist. You should also know that Arestin is not a cure for periodontal disease.
How Does LANAP Work?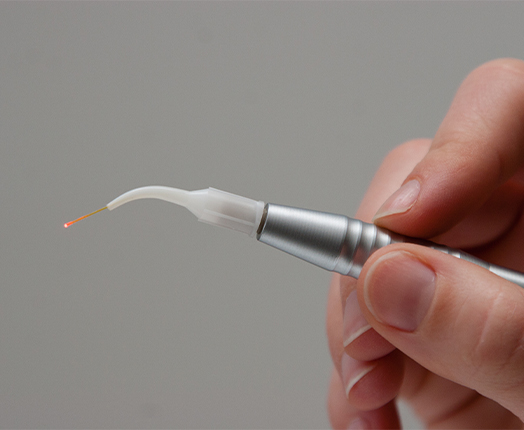 Dr. Fossum uses a PerioLase laser to perform LANAP. The PerioLase is the only laser specifically approved for this patented high-tech procedure. To start, Dr. Fossum administers local anesthetic and inserts a tiny laser fiber into your infected gum tissue pockets. The laser eradicates infection and promotes tissue reattachment. Generally, only two, two-hour sessions are needed to complete the procedure. With laser periodontal therapy, you won't need stitches and recovery time is minimal.
Call our dental office today to schedule your laser periodontal therapy consultation with Dr. Fossum. We give Temple and the surrounding areas personalized care for your unique smile.