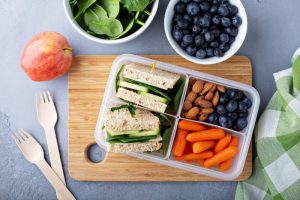 Now that the new school year has begun, you're doing your best to help your child adjust and flourish. As a parent, you're always concerned about what he or she eats during the day. You want to be sure that it will provide adequate nourishment, but your dentist in Temple says there is something else to take into consideration – the effects the food will have on your child's oral health. As you continue reading, learn the impact different foods can have.
How School Lunch Can Cause Cavities
The primary culprit of cavities is sugar. If it's allowed to sit on the teeth, it attracts bacteria that feed on the leftover particles. As they digest the sugar, they release acidic fluids that can eventually corrode the enamel and lead to cavities.
When your child is at school, there are tons of foods and beverages available that can contribute to tooth and gum decay. They can be found in vending machines and in the cafeteria in the form of processed foods, breads, desserts and sugary drinks.
What to Consider When Preparing Lunch at Home
You can have more peace-of-mind when you pack a bag lunch. It allows you to have greater control over what your child will be eating while at school. Here are some basic guidelines to follow:
Don't include any sticky foods that cling to the teeth.
Be sure to include a combination of fruits, vegetables, grains, protein and calcium fortified products (cheese, yogurt, milk, etc.).
Pack a sugar-free flavored drink to curb sugar cravings and prevent the consumption of unhealthy beverages.
It's also a good idea to pack a travel-sized toothbrush and toothpaste. Therefore, if your child has time, he or she can brush after eating. If time is limited, consider packing a travel-sized bottle of mouthwash.
What Else You Can Do at Home
Even if you pack the healthiest lunch possible, there will always be temptations and opportunities for your child to indulge in unhealthy foods and beverages. You can combat that by setting a standard for healthy eating at home.
It's also important to teach excellent dental hygiene and monitor your child's efforts to make sure no bad habits develop. Like adults, children should be brushing and flossing at least two times a day.
The extra efforts you put forward at home will help to prevent the potentially negative side effects of school lunches and set your child up for a future full of happiness and wellness!
About the Author
For over 20 years, Dr. Richard Fossum has been promoting excellent oral health. The University of Texas Dental-Branch in Houston graduate, husband and father of four children understands the importance of laying a proper foundation for oral health early in life. Thus, Dr. Fossum provides patient, kind and thorough dental checkups for children of all ages at Fossum Dental Group. He can be reached for more information or to schedule a visit through his website.