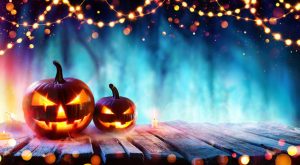 Halloween is right around the corner, and it's hard to not be excited about this time of the year! But amidst all of your fun, it might be easy to accidentally neglect your oral health and end up with an unintentionally scary smile! Fortunately, there are many things you can do to keep your pearly whites looking their best this spooky season. Here are four helpful tips from your dentist in Temple.
1. Eat Your Candy with Dinner
Your saliva is your first line of defense against the cavity-causing bacteria that forms in your mouth after eating Halloween candy. It rinses away excess food particles and can effectively cancel out some of the acids produced by these bacteria. And your mouth's production of saliva drastically increases when you're eating, meaning that it's beneficial to eat candy with dinner rather than on its own. Not to mention, eating candy with or directly following a meal also limits the amount of time the sugar has contact with your teeth.
2. Stick to a Healthy Diet
On a related note, you should consider sticking with a well-balanced diet. Consider implementing plenty of fresh fruits and vegetables, lean proteins, healthy fats, and complex carbs; it also helps to reduce your intake of sugary and starchy items when possible. Fueling up on healthy foods can also help you to feel fuller more quickly, before you have the chance to fill up on candy! You should also drink plenty of water on a daily basis; water is the absolute best beverage for your body, including your mouth! Water helps prevent cavities by washing away any sugar that might be clinging to your teeth after consuming candy and sweets.
3. Be Selective About Your Candy
Try to avoid hard candies like lollipops or jawbreakers that stay in your mouth for extended periods of time; these are actually some of the worst candies for your teeth, and they're also more likely to chip or crack your pearly whites if you aren't careful! Meanwhile, sour candies are usually quite acidic and harmful for your enamel. However, chocolates and sugarless gums are much better options for your teeth; chocolate washes off of your teeth easier than most types of candy, and dark chocolate is even better because it has less sugar!
4. Maintain Excellent Oral Hygiene
It's easy to get swept up in the excitement of Halloween season, and it might be easy to accidentally neglect your oral health and allow a problem to arise that harms your smile! But you should take steps to ensure that you're maintaining a proper hygiene routine. Brushing twice a day for two minutes with a soft-bristled toothbrush, flossing, and rinsing with an antibacterial mouth wash can all actively mitigate several nasty issues that'll spoil your Halloween fun. And of course, visiting your dentist twice a year for preventive care will allow your provider to ensure that your smile doesn't look scary at all!
Your smile is one of the first things that people will notice about you, even if you're wearing a Halloween costume! Following these tips will help to keep it white and bright without compromising your spooky festivities.
About the Author
Dr. Richard Fossum received his dental doctorate from the University of Texas Dental Branch – Houston and has proudly served the dental needs of the Temple, TX community for several years. His practice is pleased to offer many different services including preventive, cosmetic, restorative options and more. If you have any questions about the article or would like to schedule a visit, you can contact the practice online or over the phone for assistance: (254) 778-3900.