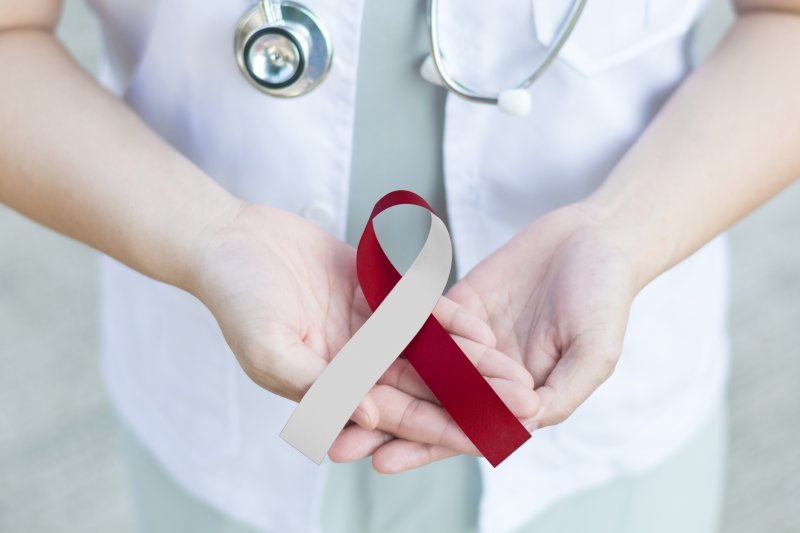 In general, most people view April as a spring-themed month. After all, it features beautiful weather and Easter festivities! Still, April is more than its springtime atmosphere – it's also Oral Cancer Awareness Month! As such, now is the time to honor the fight against oral cancer. As for how to do so, your Temple dentist suggests learning the condition's core facts. Read on, then, to discover three crucial things about oral cancer for April.
Learn Oral Cancer's Symptoms
A type of head and neck cancer, oral cancer affects your lips, tongue, and mouth tissues. More specifically, it causes uncontrolled cell division in said body parts.
Given these facts, oral cancer's symptoms can be mistaken for common mouth problems. They include, you see, issues like oral sores, red or white gum patches, loose teeth, and difficulty swallowing. Consequently, you should pay close attention to such things and not dismiss them quickly.
Know its Risk Factors
While looking for oral cancer signs, it's best to note whether you also have relevant risk factors. To that end, keep the following ones in mind:
Tobacco & Alcohol Use: In many cases, the carcinogens in tobacco products lead to oral cancer. Meanwhile, your body digests alcohol into acetaldehyde – a carcinogen known to trigger the disease.
Excess Sun Exposure: Without proper sun protection, your lips may be exposed to excess UV radiation. Should that happen, they could develop oral cancer.
HPV: HPV is an STD that (among other things) can cause oral cancers. In particular, it often results in throat cancers at the back of the mouth.
There's no proven way to prevent oral cancer. However, you can reduce your odds of it by addressing the factors above.
Book a Screening with Your Dentist
Book a checkup with your dentist this month if you show signs or risks of oral cancer. During your visit, they can assess you for the illness with a professional screening.
An oral cancer screening involves a few simple steps. Firstly, you'll rinse your mouth thoroughly with a cleansing solution. From there, the dentist will use special tools to examine your mouth. If their instruments detect a problem area, they'll quickly notice and diagnose it.
Should the dentist confirm that you have oral cancer, don't panic. Early stages of the condition hold an 80-90% cure rate. Plus, your dentist can refer you to a qualified cancer specialist.
This April, remember to give proper respect to Oral Cancer Awareness Month. Practicing such awareness will help you and others get quality interventions when necessary.
About the Author
Dr. Richard Fossum is a dentist in Temple, TX, having earned his DDS at the University of Texas Dental Branch – Houston. He's also a member of the American Dental Association, the Texas Dental Association, and the Academy of General Dentistry. As such, his specialty is comprehensive dentistry that will meet all your oral health needs! Dr. Fossum currently practices at his self-titled clinic and is reachable on his website or by phone at (254)-778-3900.