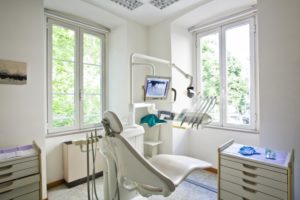 In the past, your dentist and their team would wash their hands, put on a pair of clean gloves, and be ready for your appointment. However, much more goes into preparing for your visit during the coronavirus pandemic. In fact, your dental team is working tirelessly to safeguard your health before you even arrive to the practice. Here's what your Temple dentist is doing to prepare for your appointment during COVID-19.
1.) Advanced COVID-19 Training
Before reopening their practice, all team members completed additional COVID-19 awareness and prevention training. This keeps the entire team current with the most effective ways to prevent the spread of germs and keep their patients safe in the pandemic.
2.) Daily Health Checks for Team Members
Every team member's day at the office starts with a health check, which includes:
A no-touch temperature check.
A Health and symptom questionnaire.
20-30 seconds of handwashing.
3.) Designated Safety Champion
Each day, a team member is designated as Safety Champion. They are tasked with monitoring the practice's Commitment to Safety and ensuring that all new protocols are being followed.
4.) Changes to the Reception Room
Several noticeable changes have been made to the reception room to prepare it for patients, like:
One-way traffic areas and fewer chairs to encourage social distancing.
Removal of toys, magazines, and other frequently touched items.
Strategically placed clear plastic barriers to hinder the spread of airborne particles.
5.) Change Work Clothes at Work
COVID-19 can survive on a variety of surfaces for minutes, hours, or days at a time. To completely eliminate the chance of bringing any infected particles into the practice, team members now change into and out of their work clothes while at the office.
6.) Enhanced Cleaning & Disinfecting Protocols
Dental practices have always been some of the cleanest places in the country. They continue to stay germ-free during the pandemic with practices like:
Extensive dental instrument sterilization methods outlined by the CDC like high heat and steam under pressure.
Thorough cleaning and disinfecting all surfaces, fixtures, and equipment between patients.
Sanitizing the entire practice top-to-bottom every night.
While many of the new COVID-19 safety protocols take place behind the scenes, you can rest assured that your dental team is going above and beyond to keep their office germ-free. If you need to visit them for care during the pandemic, you can feel confident that the health of your smile is in good, clean, and prepared hands.
About the Practice
Now more than ever, Fossum Dental Group is committed to the health and safety of Temple, TX. Typically, they love to show their dedication to their community with high quality, long-lasting dental care. In light of the pandemic however, they have shifted their focus to infection control to keep their patients as safe as possible while providing excellent dentistry. If you'd like to learn more about their Commitment to Safety or any of their 14 additional safety practices, please reach out to them via their website or at (254) 778-3900.