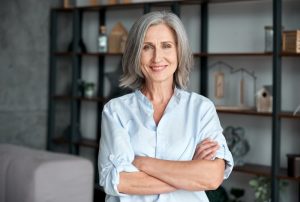 You've considered the different options for replacing your missing teeth, and dental implants appear to be your best choice. There's one problem, though: the potential of being in pain. Do you really have anything to worry about? Continue reading to find out if receiving dental implants in Temple is a painful process.
Here's Why You Shouldn't be Worried
The dental implantation process doesn't get underway until your mouth is completely numb. To accomplish this, the dentist will either use general or local anesthesia. Then, to ensure that you won't be in pain, he or she will double check to make sure that you're numb before proceeding.
How the Dental Implant Process Works
The procedure starts with the dentist creating space in your gums and jawbone for the cylinder-shaped titanium post (implant) to be inserted. Afterward, a protective cap is placed to keep the treatment area safe while you heal over the next few months. If necessary, the dentist will stitch the gum tissue to further foster healing.
Dealing with Post-Surgery Discomfort
Typically, it takes three to five hours for the numbing medication to wear off after your surgery is completed. You don't have to worry about suddenly being overwhelmed by pain, though. The discomfort felt won't be any worse than what is experienced after a tooth extraction.
If you feel acute pain, it could be an indicator that the implant has been improperly placed or there is an infection. You can take comfort in knowing that this rarely happens, as the dental implant process boasts a 95% success rate.
The Post-Surgery Healing Process
You don't want to be caught by surprise after your surgery is completed. Here are a few things you can expect to happen after your dental implants are placed:
Facial swelling
Slight discomfort in the face and jaw for around 10 days
A gradual decrease in the pain and swelling after the third day
Dentists typically recommend taking an over-the-counter pain reliever like ibuprofen (Advil, Motrin, Aleve, etc.) to reduce any pain and inflammation. It also helps to apply ice to the outside of your face in 20-minute increments.
Hands down, dental implant surgery is the best way to replace any number of missing teeth. In addition to offering durability and functionality, it provides patients with an attractive smile. Furthermore, it's comforting to know that it doesn't cause excruciating pain.
However, it's perfectly normal for you to still be cautious about proceeding. To get more information, it's best to talk to an expert. To schedule a consultation, reach out to a local implant dentist today!
About the Author
Dr. Courtney Grosskopf earned her dental degree from the University of Texas Health Science Center in San Antonio. After graduating, she completed a two-year General Practice Residency at the Medical College of Georgia, which focused on dental surgery, implant placement and other complex procedures. Throughout her career, Dr. Grosskopf has maintained a commitment to learning, completing several hours of continuing education courses. She rebuilds smiles with dental implants at Fossum Dental Group, and she can be reached for more information or to schedule a visit through the practice's website.