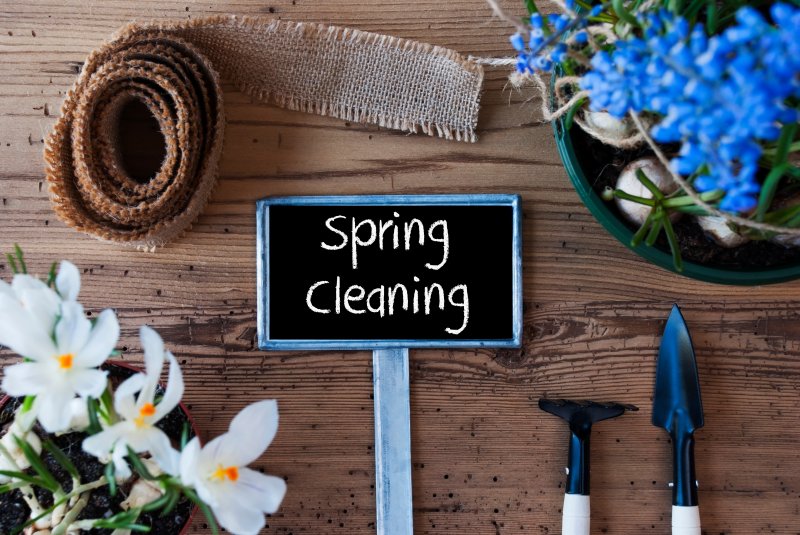 March is nearly over, so it's safe to say that Spring is finally here. Temperatures are warming, flowers are blooming, and the air is full of life. With that said, now's the perfect time for some old-fashioned Spring Cleaning! Even as you tidy, though, don't forget that your smile also needs sprucing. Your teeth and gums won't enjoy the season otherwise. Thankfully, your Temple dentist knows how to go about this dental cleanse. Here, therefore, are four helpful ways to achieve a spring cleaning for your teeth.
Get a New Toothbrush
One spring cleaning theme is "Out with the old, in with the new." Well, that thinking especially applies to tools like your toothbrush. The American Dental Association recommends getting a new one every three to four months. So, change out your old and grimy brush for a fresh kind.
Of course, you can do better than replacement; consider an upgrade. If you previously had a toothbrush with firm bristles, opt for softer bristles to avoid enamel loss and receding gums. Similarly, you can update your manual brush for an electric model that cleans more thoroughly.
Clean Your Toothbrush Holder
Another idea is to clean your toothbrush holder. A new toothbrush won't help much if you put it somewhere unsanitary.
Your toothbrush's container is exposed to all the same germs as other bathroom surfaces. Therefore, make sure to clean it when you get a new brush. In particular, wash it in warm, soapy water, wipe it with disinfectant, and run it through the dishwasher a few times. That way, the bristles that clean your mouth won't pick up more bacteria than necessary.
Check Expiration Dates
Just as you wouldn't keep expired food, ensure you don't hold onto expired dental goods. They might look okay, but using them won't do your mouth any favors.
In particular, toss any mouthwash or toothpaste past its expiration date. These items aren't as effective at cleaning teeth as their non-expired counterparts. While you're at it, switch up your products and try something new.
Set a "Spring Cleaning" Dental Visit
Even with all the changes you make at home, you can't keep your teeth safe alone. While cleaning everything else, then, book a checkup with your local dentist.
Remember, dental checkups and cleanings are top-grade preventive care. A dentist and their team can polish away tooth stains, remove tartar buildup, and detect oral issues early. Plus, a professional visit lets you ask about personal concerns and get customized advice.
Among other things, a spring cleaning for your teeth will set the season's mood. So, practice the tips above as you clean for Spring!
About the Author
Dr. Richard Fossum is a dentist in Temple, TX, having earned his DDS at the University of Texas Dental Branch – Houston. He's also a member of the American Dental Association, the Academy of General Dentistry, and the Texas Dental Association. Today, his specialties are comprehensive dentistry and emergency dental procedures. Dr. Fossum currently practices at his self-titled clinic and is reachable on his website or by phone at (254)-778-3900.