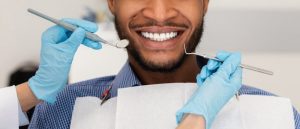 Millions of Americans suffer from mental health issues, whether it's depression, heightened stress, anxiety, distress or loneliness. The outbreak of COVID-19 has made matters even worse, fostering states of worry and fear. Recent studies show evidence of a connection between mental health issues and problems with dental wellness. Continue reading to learn about the correlation between the two and how a dentist in Temple can help out.
What the Data Shows
Research results from a study conducted by the National Health and Nutrition Examination show that the majority of the participants with depression reported having a toothache in the last year. Half the people with depression admitted to having fair or poor dental health. Further research has shown a connection between periodontal (gum) disease and downward spirals in mental health.
A Closer Look at the Connection
The following shows how one's mental state can directly or indirectly impact dental health:
Higher Cortisol Levels – Cortisol is a hormone that is emitted in response to stressful situations. It's one of the body's natural defenses, allowing for heightened awareness when there is a threat. The downside is that it causes inflammation and can encourage gingivitis and periodontal disease.
Medications – Many people take medications to help stabilize their mental health. Unfortunately, this can cause dry mouth and encourage the growth of oral bacteria and plaque.
Anxiety-Related Problems – People who suffer from anxiety can be vulnerable to canker sores and teeth grinding (called bruxism).
Dental Neglect Related to Poor Mental Health – A depressed, anxious, stressed or otherwise melancholy mental state can cause someone to neglect their dental health. This can leave an opening for several problems to develop.
Practical Solutions
When mental health issues are prevalent, the first place to start is with seeking professional counseling. Getting to the core of the problem can contribute to making the necessary dental health improvements.
It's also important to recommit to proper dental hygiene. This involves brushing and flossing at least two times a day to keep oral bacteria at bay. Visiting a dentist semi-annually also plays a significant role in maintaining a healthy smile. While it may not be easy to share any mental health challenges, it's best to keep the dentist in the loop, so that he or she can be on the lookout for some of the common related issues.
If you're battling to stabilize your mental state, you're not alone in the fight. By reaching out for help and remembering the necessity of proper dental care habits, you can overcome and experience better total wellness.
About the Author
Throughout a career that has spanned over two decades, Dr. Richard Fossum has helped his patients overcome a multitude of dental health issues. The University of Texas Dental Branch in Houston graduate still strives to expand his knowledge by taking continuing education courses so that he can continue to meet his patients' varied needs. Dr. Fossum provides comprehensive dental care at Fossum Dental Group, and he can be reached for more information or to schedule a visit through his website.