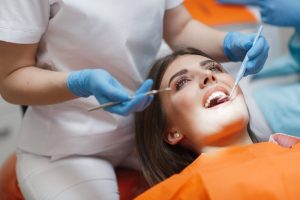 With the sun shining brightly, you're excited about all the fun possibilities that summer holds. However, a dental emergency can quickly derail your plans and leave you in pain. A local dentist in Temple says that planning in advance is the best way to prevent having a dental mishap while enjoying the summer sun. Continue reading to discover what you can do to stay safe!
#1 – Drink Plenty of Water
During hot summer days, it's of the utmost importance to drink an adequate amount of water to stay hydrated. Your water consumption also plays a significant role in maintaining your oral health. It's simple; the more you drink, the better your chances of fighting the accumulation of oral bacteria that can cause cavity development.
Here's an easy-to-remember formula for how much water you should drink. Divide your current weight in half, and drink that amount of water in ounces per day. For example, a 200-pound person would need to drink at least 100 ounces of water per day to be properly hydrated.
#2 – Swim Carefully
During the summer months, swimming pools become more valuable than ever. Unfortunately, medical professionals see a peak in pool related accidents during this time of the year.
Children are especially at-risk, as they are prone to dental injuries. To prevent an accident, they should be reminded not to run on slippery pool decks, to avoid diving into shallow pools and surface carefully when underwater.
#3 – Pack an Emergency Dental Kit
While you want to do everything in your power to prevent dental emergencies, there is always a chance of one occurring. Therefore, it's best to be prepared by having an emergency dental kit packed and ready to go.
Here are some of the items you should include:
Cotton gauze
A handkerchief
Saline solution
A small container with a lid
Gum numbing medication (Orajel)
Over-the-counter pain reliever like ibuprofen (Advil, Aleve or Motrin)
The contact information (office number and email address) of your dentist
#4 – Pay Your Dentist a Visit
Before taking off for your summer vacation, it's a good idea to pay your local dentist a visit. This is a great way to identify and treat any developing issues before they get out of control and leave you dealing with a painful dental emergency.
In addition to having healthier teeth and gums, you'll be able to display a newly cleaned and attractive smile for those summer photos!
About the Author
Dr. Richard Fossum is a graduate of the University of Texas Dental-Branch in Houston. Throughout a career that has spanned over 20 years, he has been an advocate of preventive dentistry. Dr. Fossum helps patients get summer-ready by providing cleanings and checkups. He also offers advanced emergency dental care at Fossum Dental Group, and he can be reached for more information or to schedule a visit through his website.