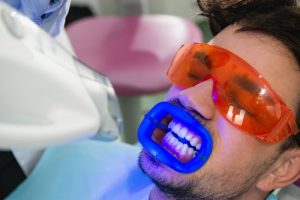 If you desire to have a set of bright-white teeth, there is an ingredient in certain foods and beverages that can pose a direct threat: tannins. Why do they interfere with the appearance of your smile and where can they be found? As you continue reading, a dentist in Temple provides answers. You'll also learn what can be done to overcome any stains or discoloration and revamp your smile!
What are Tannins?
A group of bitter and astringent compounds, tannins can be found abundantly in nature. They're present in the wood, bark, leaves and fruit of various plants, including oak, rhubarb, tea, walnut, cranberry, cacao and grapes.
The purpose of tannins is to make plants unpalatable. The goal is to deter animals from eating them until they are ripe, as they produce a mouth-coating feeling when bitten into.
How do Tannins Interact with Tooth Enamel?
In addition to deterring the consumption of unripen plants, tannins are known for contributing to their rich color. This is especially notable in grapes, as tannins react with chromogens to intensify their hue.
What does this mean for your teeth?
Because the outer layer of your teeth (the enamel) is porous, the tannins (especially in red wine) are easily absorbed. Of course, this can produce an unfavorable appearance.
How to Prevent Stains and Discoloration
Here are some helpful tips for avoiding a blemished smile:
Limit your consumption of red wine and other darkly pigmented foods and beverages.
If you choose to indulge, be sure to brush and floss afterwards.
If you can't perform dental hygiene, drink a glass of water immediately after consuming a food or beverage that can cause discoloration. This will help remove some of the leftover tannins.
A Way to Upgrade Your Smile
If you've already endured any staining or discoloration, professional teeth whitening can be used to revamp your appearance. Whether done in-office or with a take-home kit, you can achieve remarkable results.
The in-office method only takes around an hour to complete. It involves a high-powered gel being applied to your teeth and then a special light shown that activates the whitening properties. With the use of Zoom! Whitening, the dentist can brighten your smile by as much as eight shades.
The take-home process starts with the dentist custom-molding bleaching trays that will allow for a comfortable, safe and effective application. You can usually expect to see recognizable results in seven to 14 days.
To have your smile upgraded with professional teeth whitening, contact a local dentist to schedule a consultation. Soon, you'll be looking and feeling a million times better!
About the Author
For over 20 years, Dr. Richard Fossum has been helping his patients experience the best in dental health. A graduate of the University of Texas Dental Branch in Houston, he takes several hours of continuing education annually to stay abreast of the latest complexities in the dental world. Dr. Fossum lifts troublesome stains and discoloration with teeth whitening at Fossum Dental Group, and he can be reached for more information or to schedule a visit through his website.