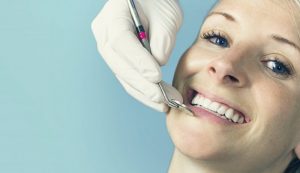 A common misconception is that dental hygienists only clean teeth at preventive care visits. While this is one of their duties, they do much more. Just like the nurses at your doctor's office or local hospital, dental hygienists are like the glue that holds everything together for your dentist in Temple. Continue reading to learn about the many hats they wear and why they are handpicked to meet the varied needs of patients.
Patient Screenings
Typically, the dental hygienist will be the first person you work with during a dental visit. He or she will conduct a brief examination and, depending on the condition of your teeth and gums, the hygienist may perform a more extensive assessment, looking for signs of tooth decay and gum disease. The findings will be reported to the dentist to help shape the care you'll receive.
Patient Education
Visiting a dentist for preventive care isn't just about having plaque and tartar removed. It's also an opportunity to raise your dental IQ. The hygienist plays an integral role in this process by providing valuable tips. For example, some adults may have never learned the proper way to brush their teeth to ensure a thorough cleaning. The simple suggestions that a dental hygienist provides could make the difference between having excellent oral health or developing cavities.
Patient Counseling
Dental hygienists are often tasked with the job of helping patients overcome their anxieties and basic nervousness so they can receive the care they need. Sometimes, it just takes some calming words or a smile to reassure patients that everything will be okay. On other occasions, dental hygienists may provide a sense of security by taking the time to explain, in layman terms, what the dentist will do to complete a procedure.
X-rays and Impressions
If it's your first dental visit, you can expect X-ray images to be taken to help the dentist establish a baseline for your oral health. The dental hygienist will be the person to take the photos. When you're preparing to receive implants, dentures or an oral appliance, he or she will take bite impressions to ensure that you'll have a correctly fitting final restoration.
Treating Patients
According to the Bureau of Labor Statistics, some dental hygienists may be responsible for such tasks as removing built-up plaque and tartar, giving fluoride treatments and applying sealants to cracked or damaged teeth. In some cases, they even perform root planing and scaling procedures.
Given that dental hygienists are so integral in the care that patients receive, it's of the utmost importance to work with a dentist who carefully chooses his or her staff members. When you find a dental team that has the right components of an expert dentist, highly-skilled dental hygienists and a positive atmosphere, you've likely found your home!
About the Author
One of the secrets to Dr. Richard Fossum's success during a career that has spanned over two decades, is that he handpicks his staff to ensure that his patients will have the best dental experience possible. The University of Texas Dental Branch in Houston graduate offers patients competent and compassionate dental care and state-of-the-art equipment to meet all their dental needs. Dr. Fossum provides comprehensive dentistry at Fossum Dental Group, and he can be reached for more information or to schedule a visit through his website.