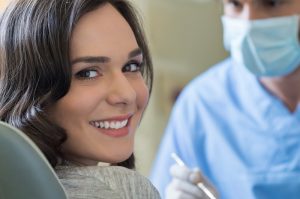 If the thought of visiting the dentist makes you feel a little (or a lot) nervous, sedation dentistry in Temple could be just what you have been waiting for. This is the use of anti-anxiety medications to help you relax in the dental chair — that's right, really relax — on your way to healthier teeth and a more beautiful smile. Keep reading to find out more about your options with sedation dentistry, including nitrous oxide, oral conscious sedation, and IV sedation. We can't wait to help make going to the dentist a pleasant affair!
Why Sedation Dentistry?
Dental fear or anxiety can cause patients to avoid visiting the dentist altogether, putting off necessary dental care for "later" — often, even while they know doing this puts their oral and overall health at great risk. Routine checkups and cleanings are crucial for a happy, thriving smile. Detecting tooth decay and gum disease as soon as they develop can help you prevent tooth loss and a host of other problems.
Sedation dentistry is highly effective for patients who are dealing with dental fear and anxiety, and it also provides crucial help for people who have difficulty reclining in the dental chair for extended periods of time due to chronic back, shoulder, or neck pain. Patients with mental disabilities may benefit from the relaxation provided by sedation dentistry as well.
The benefits of sedation dentistry include:
Safe for patients of all ages

Can help even very nervous patients relax

Only one appointment with sedation may be necessary, as many patients see visiting the dentist is nothing to fear

A number of options to choose from (more on that below)

Can help patients achieve better oral health and hygiene by making it easier to obtain routine dental care
Your Sedation Options
Our office offers three methods for helping you relax at the dentist's: nitrous oxide, oral conscious sedation, and IV sedation. The one that is right for you depends on the procedure you are having performed, your level of anxiety on the day of your appointment, as well as, of course, your personal preference.
Nitrous oxide (AKA laughing gas) is a gas you breathe in throughout your appointment. They don't call it laughing gas for nothing — after you start breathing in the substance you will start to feel light, tingly, and maybe even happy to be at the dentist's. Nitrous oxide is adjustable throughout the procedure and is safe for children, too.
Oral conscious sedation is a way we can help you relax with a pill you take orally about an hour before your appointment. Its effects have taken over by the time you are settling into the examination chair. You are still awake under this form of sedation, but completely without worry about what is going on around you.
For more severe cases of anxiety or for patients undergoing longer, more complex procedures, IV sedation provides wonderful help. The sedative is administered directly into the arm and can be adjusted as needed throughout the procedure. We will keep a close eye on your vital signs to ensure your complete safety.
Now that you know more about sedation dentistry, what are you waiting for? We can't wait to help you relax at Fossum Dental Group!
Meet the Practice
Fossum Dental Group offers comprehensive dental care to patients of all ages in Temple, TX. To learn more about their services or to schedule an appointment, you are invited to contact the office at 254-778-3900.