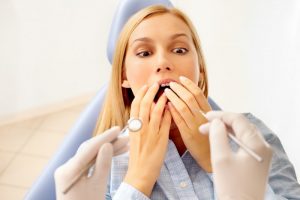 Have you ever heard the saying, "It's time to face your fears?" Well, if one of your fears is going to the dentist, it may be easier said than done. The drills, scraping, and potential pulling sends you into a state of such extreme anxiety that it's all you can do not to pick up the phone and "reschedule." Before you do, why not learn more about the different types of sedation dentistry in Temple. Discover how it can help put you at ease even if all you need is a general cleaning.
Nitrous Oxide
Do you feel a bit of nervousness and want to take the edge off? That's perfectly understandable, and your dentist will be happy to administer some nitrous oxide to ease your anxiety. Also known as "laughing gas," this is used on patients of all ages. Once your dentist determines it is safe to use on you, he will place a small mask over your nose, and you will begin to breathe normally. Within minutes, you'll notice the effects and your dentist can begin to work.
This safe and effective method of sedation will keep you relaxed during your appointment, and the best part is once the mask is removed, the effects subside, and you can be on your way to enjoying your day.
Oral Conscious Sedation
If you're preparing for a minor procedure, oral conscious sedation can do the trick. You'll avoid drinking or eating prior to your appointment, but exactly one hour before your procedure, you will take the oral medication provided to you by your dentist. Assessing your level of sedation, your dental team may need to adjust the medication depending on how deeply sedated you are.
Depending on the procedure, you might need a numbing agent, but you will not feel any discomfort because of the sedation. As your dentist works, your dental team will monitor your pulse, blood pressure, and oxygen levels to ensure everything is at a safe level. And although you might feel groggy and thoroughly relaxed, you will still be able to respond to touch or requests by your dentist.
The effects of oral conscious sedation do take some time to wear off, so you will need to have someone drive you to and from your appointment.
Intravenous Sedation (IV)
If you simply cannot handle the idea of going to the dentist or having your teeth worked on, it is best if your dentist opts for IV sedation. This will completely relax you, eliminating any fear or anxiety you may have. It can also cause you to experience full or partial memory loss as it pertains to the procedure.
You will remain conscious and be able to respond to your dentist and his team. You should also know that it is important to have someone escort you, as the effects take some time to wear off.
Going to the dentist doesn't have to be scary. Dental professionals understand all the tools and sounds can be daunting. However, with the use of sedation dentistry, you'll never have to worry about breaking out into a sweat at the thought of walking through the doors of a dentist office again.
About the Author
Dr. Richard Fossum, DDS, attended the University of Texas before graduating from the University of Texas Dental Branch in Houston in 1995. He and his team at Fossum Dental Group look forward to improving your oral health and caring for all your dental needs. Standing by the philosophy of "Lifetime Care," we are patient-centered and believe we can positively influence a person's quality of life. To learn more about Dr. Fossum or our services, visit our website or call (254) 778-3900.