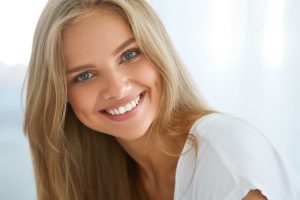 There is no reason to live with an imperfect smile when options like porcelain veneers in Temple are available. This treatment is a great solution for many patients dealing with cosmetically flawed front teeth — keep reading to learn more about how dental veneers work, why they are so great, and whether or not you are a good candidate for this transformative cosmetic treatment.
What Are Dental Veneers?
Dental veneers are thin, tooth-shaped coverings made of porcelain, a sturdy material that looks and feels just like your natural tooth enamel. Veneers are highly-customizable to help you achieve the look that suits you best. They work by simply covering up aesthetic imperfections affecting the teeth that show when you smile.
Some of the flaws that can be masked with veneers include:
Chipped or broken teeth

Stained or discolored teeth

Teeth with irregular surfaces

Misshapen teeth (too short or pointy)

Slight gaps between teeth

Off-center or slightly misaligned teeth
Lumineers
Traditional dental veneers require the removal of a small portion of tooth enamel. Lumineers are a special type of veneer that usually do not require the alteration of the enamel before placement. That makes them a less-invasive and reversible treatment. If for some reason you wish to return to your natural smile after having Lumineers, you easily can. You and your cosmetic dentist in Temple will discuss your options thoroughly to determine which one is best for your smile.
Multiple Benefits of Veneers and Lumineers
Veneers and Lumineers offer a number of benefits for patients with imperfect front teeth. Some of the most considerable advantages of this cosmetic treatment include:
Several dental imperfections can be corrected all at once

Dental porcelain does not stain or discolor

Minor orthodontic imperfections can be masked to help you avoid the need for braces

Veneers and Lumineers can last for many years with proper maintenance

Both options are highly customizable to help you achieve the look that suits you best
Are You a Candidate for Veneers?
Veneers are a great option for patients who have cosmetically imperfect but otherwise healthy teeth. For weak or worn teeth or those that have been structurally damaged, a sturdy dental crown may be preferable. Most adults (over the age of 18) who are struggling with visibly imperfect teeth but who enjoy good oral health can usually benefit from dental veneers. To find out whether or not you can, too, contact the team at Fossum Dental Group today!
Meet the Dentists
Dr. Richard Fossum and Dr. Brooke Elmore are general and cosmetic dentists offering superior dental care for Temple and the surrounding areas. To learn more about their services or to schedule an appointment to discuss dental veneers, please do not hesitate to get in touch at (254) 778-3900.