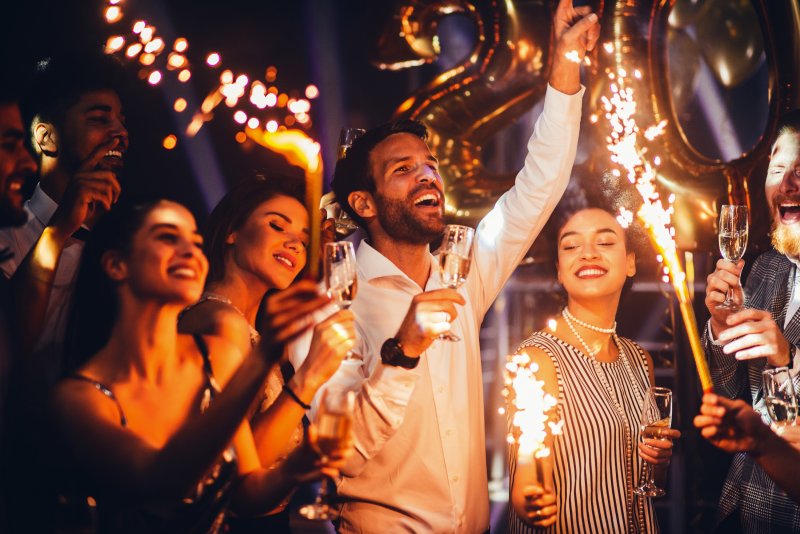 Are you satisfied with your smile? According to a study done by The Journal of the Indian Prosthodontic Society, only about 58 % of people are highly satisfied with their smiles. If you're part of the 42% that think their pearly whites could use some work, why not make a New Year's resolution to get a healthy smile? If you need help coming up with a place to start, read on to learn about four resolutions that will have you ending the year with a healthier, more confident smile.
#1: Visit the Dentist
Biannual dental visits allow your hygienist to thoroughly clean your teeth and around your gumline. This lowers your chances of decay and lets you leave your appointment with a fresh smile. Additionally, your dentist uses these visits to examine the oral cavity. If they identify any oral health issues, they will administer prompt treatment to prevent them from developing any further.
#2: Brush and Floss Better
Do you brush your teeth twice per day? if not, now is the time to start. Brush once in the morning and once at night for two minutes each time. floss before you go to bed to remove food and plaque from between your teeth. Keeping up with your oral hygiene will allow you to maintain a healthy smile and keep cavities at bay.
#3: Cut Out Tobacco
Tobacco raises your chances of developing gum disease, oral cancer, and a variety of other cancers. It also dries out your mouth, which raises your chances of tooth decay. Cutting this habit out of your life can be hard, but it will drastically improve your overall health. Ask friends and family for support and reach out to your doctor, dentist, or therapist for resources to help you quit.
#4: Eat A Tooth-Approved Diet
Sweet, starchy, acidic, and carb-heavy foods give harmful oral bacteria plenty to feed off. To lower your chances of developing tooth decay, cut back on these foods and consume tooth-healthy treats like:
Carrots, pears, cucumbers, celery, apples, and other fresh fruits and veggies
Yogurt, milk, cheese, and other low-fat and fat-free dairy products
Sardines, tuna, salmon, mackerel, and other fish
Leafy greens like lettuce, spinach, and kale
Almonds and cashews
Chicken and turkey
New Year's resolutions are meant to be met, so put in the extra effort this year to take good care of your pearly whites. By the end of next year, you'll be sporting an impressive smile you love!
About the Practice
Dr. Richard Fossum is here to offer the residents of Temple the exceptional oral health care they need to achieve their New Year's resolutions by helping them get the healthy smiles of their dreams. From checkups and cleanings to restorative work, they offer a range of services that can make your smile journey a success. Call their office at (254) 778-3900 or visit his website to make an appointment or for more information on their service offerings.