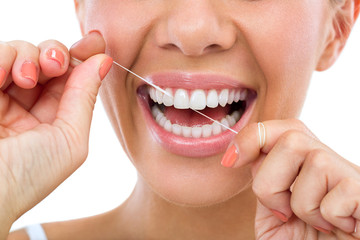 It's the beginning of 2023, and people all over the world are beginning to work through their New Year's resolutions. Regardless of regardless of whether your resolution is related to your health, travel, money, or any number of other things, it can be difficult to stick with it. This is also true when it comes to resolutions regarding your oral health, such as flossing more often. Continue reading to learn about 5 tips that will help you stick to your New Year's resolution to floss more often.
Tip #1: Start Off Slow
The Economic Times shared an article that stated that only about 16% of people end up following through with their New Year's resolutions. In fact, most people give up on their resolutions within six weeks of starting them.
There is a range of reasons why most people's New Year's resolutions don't stick. One reason is that they set overzealous goals. If your goal is to go from not flossing at all to doing so every day, this will be much easier said than done. It's best to start slow. Consider beginning by flossing a couple of days each week and working your way up over time.
Tip #2: Refresh Yourself on the Proper Technique
One of the most important parts of flossing your teeth is using the correct technique. If you are unaware of the proper way to floss, consider looking it up. Viewing diagrams or watching YouTube videos will help you get used to it.
Tip #3: Use the Right Products
If traditional dental floss isn't the best option for you, consider a water flosser. These are particularly helpful for people who have mobility issues and find it difficult to properly maneuver the dental floss around their pearly whites. Additionally, if you choose to use traditional floss, make sure to pick the right kind. There are different thicknesses, textures, flavors, and more.
Tip #4: Remind Yourself to Floss
When you first start to incorporate flossing your teeth into your oral health routine, it may be difficult to remember. Consider setting reminders on your phone to floss every night. You can also leave a note near your dental tools reminding you to floss your teeth.
Tip #5: Make Flossing Convenient
If you have a busy day, it may be difficult to find time to go home and floss your teeth. For this reason, it's best to make flossing as convenient for yourself as possible. Though it's best to floss your teeth every night before you go to bed, doing it at all is better than nothing. Carry dental floss in your purse, pocket, or backpack so you can floss during lunch, after class, or any other chance you have.
About the Practice
Drs. Richard Fossum and Courtney Grosskopf are two Temple-based dentists who treats patients with the exceptional care they deserve. They aim to help you achieve healthy, happy smiles through a range of preventive, cosmetic, and restorative procedures. They can also teach you methods to better care for your beam, such as the right way to floss between your teeth. If want to make an appointment with Dr. Fossum or Dr. Grosskopf or are interested in learning more, call (254) 778-3900 or visit their website.