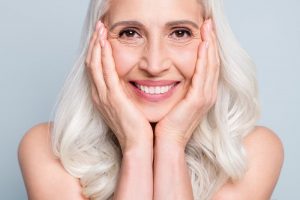 Okay, maybe time machines aren't actually a thing just yet, but there is another option that can work wonders to make you look younger. Cosmetic dentistry can upgrade your smile with several treatments for you to choose from.
Your cosmetic dentist in Temple will explain some ways that aging can affect your teeth and discuss some treatments they offer to help you turn back time.
What are Some Dental Problems That Tend to Develop as You Age?
Most reasons for aging in your smile are inevitable, while other developments are based on your decisions.
Darkened or yellow teeth: The underlying tooth layer thickens as people age, causing this change
Dingy teeth: Drinking certain beverages and/or tobacco smoke speed up this change
Crooked teeth: Gum tissue develops problems and when gums recede, teeth no longer remain in their original positions
Worn-down teeth: Chewing and grinding wears away enamel and structure of teeth
Fragile teeth: Your teeth become more brittle, leading to cracks, chips, and shearing
How Can Cosmetic Dentistry Make an Impact on Your Smile?
Your dentist in Temple has various cosmetic dentistry options, and you can discuss your needs to find the best fit.
Teeth Whitening: If you are unhappy about stains or dull discoloration of your teeth, your dentist's whitening treatment is leaps and bounds more effective than store-bought alternatives. Choose between in-office Zoom! Whitening or a custom take-home kit.
Porcelain Veneers: These ultra-thin customized restorations can be placed in as few as two appointments, are very lifelike, are resistant against staining, and are built to last. They can even alter the shape or size of your teeth.
Lumineers: These ultra-thin, translucent shells change tooth shape and size. This brand of veneers requires little or no tooth preparation, so no numbing is required, and you won't need temporaries.
Dental Bonding: This fast and cost-effective method for correcting minor imperfections like chips in the enamel, stubborn dark spots, and thin gaps can be completed in one visit. A bonding material is applied to your teeth before being sculpted and polished to the desired shape.
Metal-Free Restorations: Your dentist offers all-ceramic crowns and tooth-colored fillings to help you look great. The biocompatible nature of these materials is safer and more comfortable for you than metal.
Father Time waits for no man or woman, but your smile can tell him to come back later if you decide to invest in cosmetic dentistry. Think about how you want to make an improvement, consider your options, and then discuss with your dentist in Temple.
About the Practice
At Fossum Dental Group, you'll always find a friendly and compassionate team waiting to help you. We understand that each patient has unique needs, so we approach each appointment as an opportunity to build trust through individualized service. If you are interested in cosmetic dentistry, our dentists are experienced with using modern esthetic treatment to create eye-catching smiles. To schedule a consultation and get started, visit our website or call (254) 778-3900.