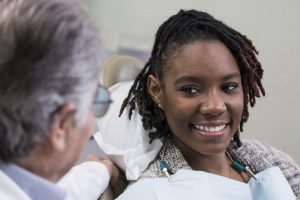 You are well aware of the importance of brushing your teeth daily. After all, you've been hearing about the threat of cavity development since you were a child. There are still many other ways you can protect your teeth and gums, though – some you may be familiar with but aren't following. As you continue reading, your dentist in Temple lists 5 key oral hygiene practices that will help prevent problems down the road!
#1 – Brushing at Least Two Times a Day
You already brush your teeth, but are you cleaning them frequently enough? It's of the utmost importance to brush at least two times a day – in the morning and before going to bed. Numerous bacteria already gather in your mouth at night while you sleep. By brushing beforehand, you can at least remove any leftover food and beverage particles that could attract even more bacteria. This provides extra protection from plaque forming and leading to tooth decay.
#2 – Using the Right Type of Toothbrush
While it may seem like a more effective method, using a toothbrush with hard bristles won't get your teeth any cleaner. In fact, it could lead to enamel damage. Instead, look for a toothbrush with soft bristles that fit easily inside your mouth. This is one of the oral hygiene best practices that will allow you to properly clean without damaging the surface of your teeth and gums.
#3 – Flossing Regularly
Cleaning with dental floss is just as important as toothbrushing. It offers an additional level of cleanliness that a toothbrush can't provide. The malleable nature of floss allows it to get into the tight spaces between your teeth. By flossing on a regular basis, you can better protect yourself from harmful plaque development that could affect your oral and overall health.
#4 – Replacing Your Toothbrush When Needed
Generally, you should replace your toothbrush every 60 to 90 days. However, if you've been sick, you should immediately discard it so you can prevent reinfection. Also, be on the lookout for frayed or irregular bristles; these are signs that it's time for a switch.
#5 – Using the Right Techniques When Cleaning
Unfortunately, having the best intentions isn't enough. It's important to use the right technique when cleaning your teeth to avoid enamel damage and gum injury. Here are simple tips to follow when performing your at-home dental care:
Brush properly – Move in a gentle, circular motion and position the toothbrush away from your teeth at a 45-degree angle while cleaning.
Floss cautiously – Carefully lower the floss between your teeth using a back-and-forth motion and form the material into a "C" shape to clean around each tooth.
Clean your tongue thoroughly – Your tongue touches every part of your mouth. Therefore, it's of the utmost importance to clean it well with your toothbrush after brushing your teeth.
By following the above tips, you can feel confident that your teeth will be clean and protected. Better yet, you'll have the peace of mind of knowing that you're operating in the safest and most efficient manner possible!
About the Author
Dr. Richard Fossum earned his dental degree from the University of Texas Dental-Branch in Houston. Throughout a professional journey that has spanned over two decades, he has always placed an emphasis on prevention as a means of protecting his patients' oral health, while easing the burden on their wallet. Dr. Fossum offers careful preventive care for lasting smiles at Fossum Dental Group, and he can be reached for more information or to schedule a visit through his website.