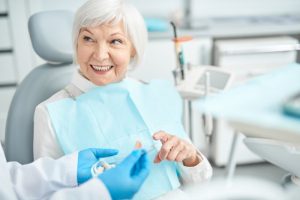 Hands down, dental implants in Temple are the most effective way to replace missing teeth. Before the procedure gets underway, though, you'll start with a consultation. What should you expect from your initial meeting with the oral surgeon? Thankfully, the process is rather simple. Continue reading to find out what's in store for you.
Oral Examination
The oral surgeon will begin by performing a careful oral examination of your teeth and gums. Additionally, your overall health will be assessed to make sure it's safe for you to undergo surgery.
The next step is to evaluate your bone density to ensure there is enough healthy bone for a dental implant to be successfully placed. Typically, if there is inadequate bone mass, the oral surgeon will recommend a bone grafting procedure before the implantation process begins.
X-ray Examination
To ensure the highest degree of accuracy, the oral surgeon will use X-rays and computer tomography (CT) scans. The combination of the two will allow him or her to determine if there is enough bone mass to support an implant. The images will also aid in pinpointing exactly where the implant should be placed.
Discussion of Treatment Options
After you've been fully examined, the oral surgeon will explain the different treatment options that are available. If dental implantation is found to be the best available route, the next step will be to formulate a custom treatment plan.
This is also the perfect time to ask any questions you may have (the more, the better). By being as informed as possible, you can make decisions from a place of confidence.
Treatment Plan
Once you've decided on the best treatment plan to meet your needs, the oral surgeon will go over the following details:
The number of appointments you'll need
The length of time to complete the treatment
Any applicable anesthesia and sedation options
What to expect during the recovery period
Post-surgery and long-term care instructions
The Wrap-up
By the end of your dental implant consultation, you should feel more informed and well-equipped to make the right decision about your oral health future. If, later, you discover that you have other questions that you forgot to ask, you shouldn't hesitate to reach out to the oral surgeon. It's no secret to dental professionals that choosing dental implantation is a serious and important life decision. Therefore, they will be more than willing to tackle any of your questions so you can feel secure in having your functionality restored in the safest and most effective manner possible.
With the help of a highly skilled and careful oral surgeon, a beautiful and healthy smile awaits you!
About the Author
Dr. Courtney Grosskopf earned her dental degree from the University of Texas Health Science Center in San Antonio. She then went on to complete a two-year General Practice Residency at the Medical College of Georgia, which focused on dental surgery, implant surgery and IV sedation. Dr. Grosskopf expertly places dental implants at Fossum Dental Group, and she can be reached for more information through the practice's website.