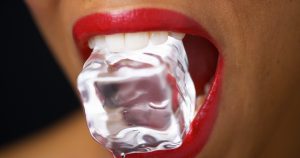 Without your teeth, life can be pretty difficult. Thus, it's best to take proper care of them. One way to protect your ivories is to know what activities can be harmful. To eliminate any guessing, your dentist in Temple has listed 5 bad habits you should avoid so that your teeth can remain healthy and strong for years to come!
#1 – Using Your Teeth as Tools
Just as you wouldn't use a hammer to tighten a screw, you shouldn't use your teeth to perform tasks they aren't designed for. Some examples of misuse are using the teeth to trim fingernails and open packages. While it may work a few times, there is always the risk of a chip, break or even dislodging the tooth. So to avoid having a dental emergency on your hands, only use your teeth to chew food.
#2 – Biting into Hard Items
You should also be careful about what you attempt to bite into. For example, many people find it perfectly normal to eat ice. The reality, however, is that it can place you at risk of breaking a tooth. Biting into hard candy can also pose a hazard. To be on the safe side, only attempt to chew items that are softer than the enamel that coats your teeth.
#3 – Smoking or Chewing Tobacco
From all perspectives, smoking or chewing tobacco is bad news. Either habit can contribute to accelerated plaque growth, which can lead to gum disease and oral cancer. Furthermore, you can expect a less appealing smile from the stain development that is common with either form of tobacco usage.
#4 – Consuming Sugar in Excess
Oral bacteria are the main nemeses of your dental health, and they depend on sugar for food. Thus, the lesser amount you take in, the more you can control the growth of oral bacteria. One way to deal with a sweet craving is to substitute fruits for candy or other types of processed foods. The natural sugars contained in fruits are more conducive to your oral health.
#5 – Vigorous Toothbrushing
It may seem logical to brush your teeth harder to get better results. The reality, though, is that it can be harmful to your enamel. This is problematic because once the protective outer layer of your teeth is damaged, it can't be regenerated.
To be on the safe side, use a toothbrush with soft bristles and move with gentle strokes when cleaning. You'll still get the results you're looking for without compromising your teeth.
The best way to treat any dental issue is to prevent it from ever happening. By taking heed to what you've learned here, you'll have strong and healthy choppers for years to come!
About the Author
A graduate of the University of Texas Dental Branch in Houston, Dr. Richard Fossum has been helping patients experience the best in dental health for over 20 years. He provides top-notch preventive dentistry at Fossum Dental Group, and he can be reached for more information through his website.