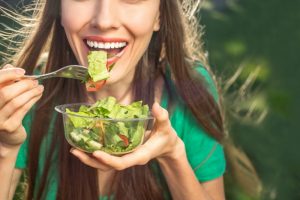 With the COVID-19 pandemic peeking in several parts of the country, many Americans are under an order to shelter-in-place to prevent the spread of the virus. Most dentists have temporarily stopped providing any elective forms of care, like check-ups, cleanings and cosmetic procedures. However, if you have a dental emergency, you can still count on receiving the vital care you need. If possible, it's always better to avoid a mishap from happening. A local emergency dentist in Temple provides some helpful dietary tips that you can implement right now!
Limit Your Consumption of Sticky Items
While spending extra time around the house, you may feel the urge to tear into your favorite snacks. As tasty as it may be, if it's sticky and chewy, it can pose a potential oral health threat. The leftover residue can cling to your teeth and along the gum line, which can quickly attract oral bacteria and lead to plaque growth and accelerated tooth decay.
Be Careful Biting into Hard Foods
A healthy alternative to eating junk food can be to snack on a handful of nuts. However, when eating the harder kinds like almonds, Brazil or macadamia nuts, there is the potential of cracking a tooth. To be on the safe side, pay close attention to how you're chewing and the amount you consume with each bite.
Cut Back on Sugar
When you're bored, nothing quite hits the spot like a sugary snack. However, the temporary jolt of dopamine that it provides isn't worth developing a toothache. The problem is that the lingering particles from eating your favorite snack or drinking a delightfully sweet beverage attract oral bacteria. As they feed and digest the leftovers, they release acids that can bore holes in your enamel.
If your teeth have already been weakened due to past dental negligence, then consuming an abundance of sugary items could push the problem over the edge and cause a dental emergency. To protect yourself, consider the following alternatives:
Use sugar-free sweeteners (xylitol, stevia, monk fruit) on your food and in your beverages.
Eat more fruits (oranges, apples, berries, tomatoes), as the sugars they release tend to cause less havoc on your teeth and gums.
Eat more protein from sources like fish, tuna, beef and chicken. This will aid in curbing any sugar cravings.
In addition to incorporating the above suggestions into your life, it's important that you maintain consistent and proper oral hygiene practices. At a minimum, you should be brushing and flossing your teeth two times a day. Not only will this help to fortify your oral health, but it will also contribute to maintaining a beautiful smile.
About the Author
Dr. Richard Fossum is a graduate of the University of Texas Dental Branch in Houston. Because he understands, all-too-well, the importance of preventive measures in maintaining excellent oral health, he encourages his patients to take an active role in preserving their teeth and gums. If you have a dental emergency during the COVID-19 pandemic, he is available to provide top-notch care at Fossum Dental Group, and he can be reached for more information through his website.