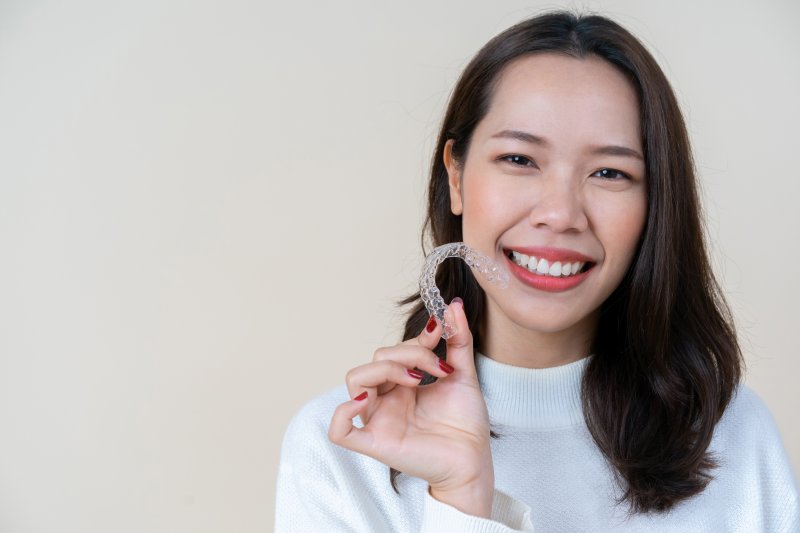 If you've ever known someone who has undergone orthodontic treatment, there's a good chance that you're familiar with Invisalign. This treatment uses a series of clear, plastic aligners to move your teeth into a more ideal position over several months or years. As effective as Invisalign treatment is at improving the look of your smile, this is only the case if you keep up with the process. Continue reading to learn about four ways that you can ruin your Invisalign treatment.
#1: Not Wearing Your Aligners Enough
One of the ways that people can ruin their Invisalign treatment is by not wearing their liners enough. Invisalign needs to be worn for 20 to 22 hours each day. Not wearing your trays as long as intended may result in treatment delays or complications.
As a general rule of thumb, only take your aligners out to eat or drink. Consider scheduling meals ahead of time so you can ensure that you have enough time to brush and floss afterward.
#2: Not Taking Your Invisalign Off Before Meals
As previously mentioned, make sure to take your liners off before you eat or drink. Water is the only exception. Neglecting to do so may result in damage or staining. If your aligners become stained, they will no longer provide you with a discreet way to straighten your teeth. So, be sure to remove them and store them in a protective case until you're done eating and cleaning your teeth.
#3: Not Cleaning Your Smile Regularly
Something else that can negatively affect your Invisalign treatment is not cleaning your teeth as often as you're supposed to. Though people who aren't undergoing orthodontic treatment generally only need to brush twice per day and floss each night, Invisalign patients need to clean their teeth after every meal. If they don't, this may result in stained aligners.
Additionally, food particles left on their teeth may get caught behind their Invisalign and raise their risk of cavities. Brush for two minutes and floss after each meal to prevent these complications.
#4: Not Using the Right Things to Clean Your Smile
While cleaning your smile, make sure to use the right methods and tools. If you don't, this may result in aligner damage. Don't use hot water to clean your Invisalign trays since it may distort them. Additionally, avoid using bleach since it can cause the plastic to wear away. Instead, use a soft-bristled toothbrush and non-abrasive toothpaste to thoroughly scrub your aligners.
About the Practice
Drs. Richard Fossum and Courtney Grosskopf take pride in assisting the residents of Temple and the surrounding communities on their journeys to healthy, happy smiles. They offer a wide variety of treatments, including orthodontic options like Invisalign. They can also give you tips on how to avoid delays and keep your Invisalign treatment on track. If you are ready to make an appointment with Dr. Fossum or Dr. Grosskopf or want to learn more about their service offerings, you can call them at (254) 778-3900 or visit their website.