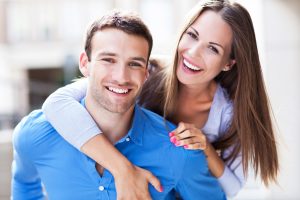 Are you unhappy with your crooked, gapped, or crowded teeth? If you have researched your options in orthodontics at all, you probably know that Invisalign in Temple offers a subtle alternative to conventional metal braces. Because it's practically invisible, this clear aligner solution is often preferred by busy adults and image-conscious teens. While most people can benefit from Invisalign, not everyone is a candidate. Keep reading to find out more about what it takes to be eligible for Invisalign clear aligners.
What Invisalign Fixes
Most patients who could benefit from conventional braces are indeed eligible for Invisalign, whether it's adults who have already had braces in the past or responsible teens who are gearing up for their first treatment. The Invisalign treatment can be used to correct the most common orthodontic issues, including the following:
Gaps between teeth

Crowded teeth

Overbite, when the upper teeth reach too far over the lower ones

Underbite, when the lower teeth cover the upper ones

Crossbite, when the upper and lower jaws do not fully meet
Considerations for Invisalign
The Invisalign aligners are removable for easy eating and cleaning, which makes them a more convenient option compared to traditional braces. However, this removability may present an extra challenge for younger patients. Teens sometimes have difficulty complying with the directions — and lost or damaged aligners result in delayed treatment times and added expense. Parents are encouraged to consider this potential challenge when evaluating their child's orthodontic options.
What's more, some cases may be too complex for Invisalign. For the most challenging orthodontic issues, conventional braces are usually the best option. Your dentist will thoroughly evaluate your smile during a consultation to determine which method will be most effective.
Are You Eligible for Clear Aligners?
The only way to know for sure whether or not you or your child can benefit from Invisalign is to schedule a consultation with your dentist. During an initial visit, your bite will be evaluated and you will get the chance to ask any questions you may have about conventional braces or Invisalign. The recommended method may vary depending on your budget, timeline, and bite alignment.
Whichever option is right for you, you are making a wonderful decision for your oral health when you seek orthodontic treatment! Braces encourage healthier teeth, fresher breath, and a host of other excellent benefits. Don't wait to find out more!
Meet the Practice
Dr. Richard Fossum and Dr. Brooke Elmore are the cosmetic dentists Temple trusts with their smiles. To discuss the Invisalign treatment or to find out whether you are eligible for this orthodontic option, you are invited to contact the office at (254) 778-3900 today!