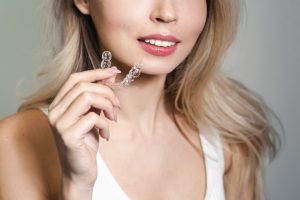 Whether you have crooked, crowded, gapped or misaligned teeth, Invisalign in Temple provides an excellent way to correct your bite. It allows you to maintain your normal eating habits and to avoid the metal hardware that is customary with traditional braces. Better yet, the treatment can be conducted in a discreet manner. While this form of orthodontic care is gaining more and more popularity, here are 5 key points to keep in mind so you can be as prepared as possible and have a successful outcome!
#1 – Invisalign Trays Must be Worn Properly
Every aspect of your Invisalign plan is custom-designed to meet your smile needs in the most timely and cost-effective manner possible. Therefore, to stay on track with your treatment plan, it's important to wear your Invisalign aligners at least 22 hours a day. This will help prevent your teeth from regressing and reversing the progress you've made.
#2 – May Alter Your Speech
When your Invisalign aligners are first placed, you'll likely notice that it impacts your speech. This is nothing to panic about, though, because as your teeth start to adjust and you become more accustomed to wearing the aligners, this minor issue should work itself out, and you'll be on your way to attaining the smile of your dreams!
#3 – Requires More Frequent Oral Hygiene
In addition to correcting your bite by wearing Invisalign aligners, you'll also indirectly improve your oral health. That's because with Invisalign, you'll need to brush and floss your teeth more often than the recommended frequency of twice daily. Instead, whenever you remove the aligners to eat, you should be cleaning them and your teeth to prevent bacteria growth that could ruin your new smile.
#4 – Requires Some Lifestyle Changes
While there are several conveniences associated with wearing Invisalign aligners, they may require you to make some changes in what you consume. It's best to limit your intake of products like coffee, red wine and tea. Otherwise, you could end up with perfectly-aligned but stained teeth.
#5 – May Cause Weight Loss
When wearing Invisalign aligners, it's difficult to snack or graze. That's because it's necessary to clean the trays and your teeth with every removal and replacement. You also have to remain cognizant of the fact that your aligners have to be worn the majority of the day. Therefore, it's not uncommon for patients to see a decrease in their weight during the adjustment phase.
If you have other questions about the Invisalign process, then contact your local cosmetic dentist to schedule an initial consultation. By knowing what to expect and preparing appropriately, the smile of your dreams is just around the corner!
About the Author
Dr. Richard Fossum earned his dental degree from the University of Texas Dental Branch in Houston. With over 20 years of experience practicing dentistry, he still pursues the latest information by taking continuing education courses annually. Dr. Fossum crafts beautiful smiles with the aid of Invisalign at Fossum Dental Group, and he can be reached for more information through his website.