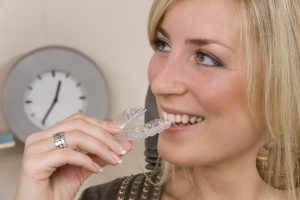 When you think of orthodontics, you probably envision metal brackets and wires that draw unwanted attention to the mouth. A local dentist says a new era has dawned in dentistry, though. Patients can now enjoy the smile of their dreams without enduring the usual limitations of traditional braces. Read on to learn why Invisalign in Temple is the better option!
How the Invisalign Process Works
The Invisalign process for straightening your teeth is completely metal-free. Instead, it uses a series of custom-crafter trays to gently and gradually shift your teeth.
The process starts with your dentist capturing digital images of your teeth. Then, a treatment plan is customized to meet your specific needs. Next, it's sent to a trusted, Invisalign-certified lab that will create a full series of trays.
When they're ready, you'll retrieve the complete treatment set from your dentist. You'll be instructed to wear each pair of trays for two weeks and to then discard them for the next set in the series.
Why Invisalign is Better Than Traditional Braces
While traditional braces are effective at straightening teeth, the Invisalign method can deliver the same stunning results. However, the latter has even more perks to offer:
Faster Results – Typically, metal braces can take up to 36 months to correct a bite. In many cases, treatment can be completed in 12-18 months with the Invisalign method.
A Discreet Treatment Process ­– Because of the clear look and low-profile design of Invisalign trays, you'll be able to enjoy a discreet procedure.
Maintenance of Your Normal Habits – There's no need to make any diet changes when undergoing treatment with Invisalign. That's because you'll have the freedom to remove your trays before eating.
The Ability to Perform Excellent Oral Hygiene – The last thing you want is straight yet decayed teeth. Therefore, it's a big plus that the trays are removable, which allows for brushing and flossing as normal.
How to Get the Process Started
The first step to getting the smile of your dreams is to reach out to your local dentist to schedule a consultation. One of the main purposes of the visit is for the professional to examine the current state of your teeth to determine whether Invisalign will be the right fit for you.
While you're there, you'll also have the opportunity to ask any questions about the procedure so you can plan accordingly. So if you're tired of enduring your smile imperfections, then reach out to your dentist to chart a new path to straight and beautiful teeth today!
About the Author
Dr. Richard Fossum is a graduate of the University of Texas Dental Branch in Houston. He has since gone on to notch over 20 years of expert care. Not one to rest on his laurels, Dr. Fossum still takes hours of continuing education annually to ensure he can provide the most effective and comprehensive care possible. He helps patients smile with confidence by fixing their teeth with Invisalign at Fossum Dental Group, and he can be reached for more information through his website.