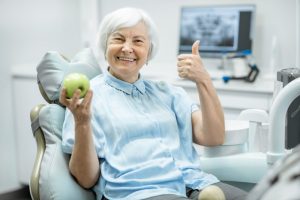 When it comes to effectiveness, smile aesthetics and longevity, dental implants stand in a class of their own. Through technological and procedural advancements, the implantation process has been simplified over the years. However, the associated terminologies can be a little intimidating for patients. So you can be better informed, your dentist in Temple says these are 7 dental implant terms you need to know. Continue reading to find out what they are!
#1 – Dental Implant
It's best to start with the term 'dental implant' itself. A cylinder-shaped titanium post, it attaches to the jawbone to mimic the function of the missing tooth root. Over a series of weeks-to-months, the implant fuses with the existing bone to create a lasting foundation and support a new prosthetic tooth or teeth.
#2 – Abutment
Also made from durable titanium, the abutment serves as a connector. It allows the final restoration to be securely attached to ensure your new smile will remain intact.
#3 – Restoration
The term 'restoration' refers to an implant-supported crown, bridge or denture. Restorations are made from high-grade porcelain, which is known for its aesthetics, durability and strength.
#4 – Implant-Retained Crown
The crown of the tooth is the portion that is visible above the gum line. An implant-retained crown differs from the traditional type in that it neither relies on dental cement nor the surrounding teeth to secure it. Instead, it's permanently fastened in place by attaching to the underlying abutment.
#5 – Implant-Retained Bridge
Like a traditional bridge, the implant version consists of two to four prosthetic teeth that are attached to the same apparatus. The implant-retained bridge differs from the traditional version in that it doesn't rely on being cemented to the surrounding teeth. Instead, it is screwed into the abutments to securely attach it to the implant – similar to the original tooth root.
#6 – Implant-Retained Denture
Traditional dentures rely, partly, on suction generated inside your mouth to maintain their position. Often, dental adhesive is also utilized to hold dentures in place. With the implant-retained version, though, special snaps or a bar is placed on the underside so they can attach to a set of abutments.
#7 – All-on-4
For patients missing an entire set of teeth, the All-on-4 method may be their best choice. An innovative implant denture procedure, it involves your dentist placing only four implants per arch. Each will be spaced and angled just right to take advantage of the denser areas of your jawbone to provide maximum stability. It's an attractive route for eligible patients because it typically requires a less invasive and shorter treatment and healing process.
Now that you're aware of the dental implant terms you should know, the next step is to schedule an initial visit with your local implant dentist. Therefore, you can be brought up to speed about any other pertinent information before moving forward. The more you know, the better you can feel about having your teeth replaced and your life rejuvenated!
About the Author
Dr. Courtney Grosskopf earned her dental degree from the University of Texas Health Science Center in San Antonio. Following graduation, she completed a two-year General Practice Residency at the Medical College of Georgia that focused on dental surgery and implant placement. Dr. Grosskopf carefully answers all her patients questions so they can feel comfortable about receiving dental implants, and she can be reached for more information or to schedule a visit through her website.