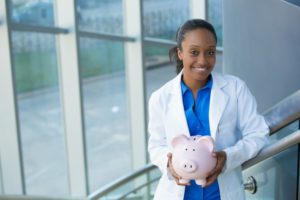 Due to the pandemic, many Americans hesitate to spend money on things they don't deem absolutely necessary. It can be tempting to save a bit of money by calling your dentist in Temple and canceling your routine cleanings. However, not attending these preventive appointments on a regular basis could actually end up costing you more in the long run. Here are four ways that biannual dental checkups can net you some serious savings.
Catch Gum Disease Early
About half of all adults in the United States currently have some form of gum disease. However, this condition is easily preventable if you visit your dentist regularly. Without being spotted and treated early, gum disease can wreak havoc on your oral health. It can cause your gums to recede and your jawbone to weaken, ultimately leading to tooth loss. Later on down the road, you'd have to spend money on more extensive treatments that may not be covered by dental insurance.
Ward Off Cavities
Cavities start off so small that you might not even notice you have one. A tiny cavity that your dentist spots during your exam can typically be treated with a filling, which is usually covered by insurance. Not going to your checkup, though, can cause the cavity to worsen. If the decay reaches your tooth's center, it can result in a monster of a toothache. You'll likely end up needing an invasive procedure like a root canal or tooth extraction, both of which are pricier than a filling.
Detect Oral Cancer
Tooth decay and gum disease aren't the only issues your dentist looks for. They also inspect all of your oral tissues for suspicious areas that could indicate cancer. Oral cancer often progresses rapidly. Missing one checkup could mean the difference between easily treating the problem or needing chemotherapy. Not only is chemo more expensive, but diagnosing oral cancer early enough could even save your life.
Keep Your Smile Bright
In addition to protecting your dental health, routine visits can prevent your smile from becoming discolored. The hygienist will polish your teeth with a special prophylaxis paste. This gritty substance breaks down stains on the surface of your teeth. Without regular cleanings, your teeth may appear discolored, causing you to spend more money on professional teeth whitening treatments.
Although they may seem like unnecessary expenses now, dental checkups and cleanings can save you tons of money in the long term. Schedule your next one today so you don't have to spend as much money tomorrow!
About the Author
Dr. Richard Fossum is a dentist in Temple, TX with 25 years of experience practicing general and restorative dentistry. He dedicates numerous hours a year to continuing education so he can stay abreast of the latest dental technology and techniques. His practice is in-network with several popular dental insurance providers, including Delta Dental, Aetna, Humana, and Cigna. To learn more about the importance of preventive dentistry, contact Fossum Dental Group at 254-778-3900.