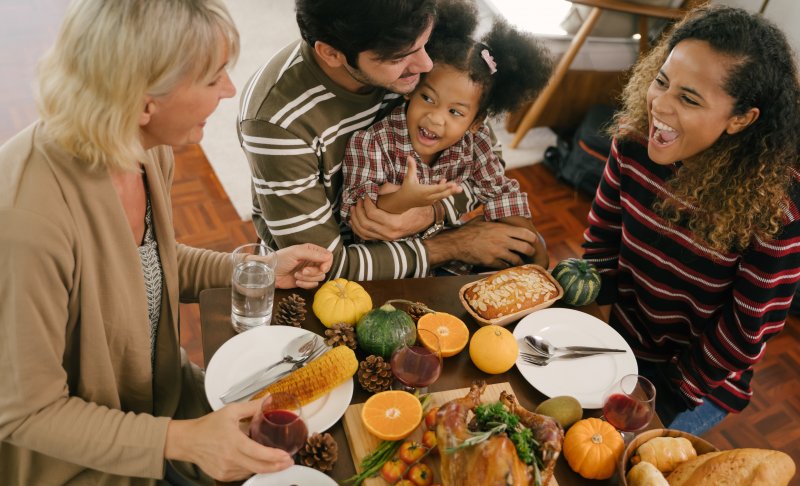 This Thanksgiving, you will probably be spending time with your closer family members and catching up over a large meal. However, speaking, smiling, and eating would not be done nearly as easily if you didn't have your pearly whites in your mouth. In order to eat that delicious turkey and those yummy side dishes that you've been looking forward to all year, you will need to ensure that you're prepared to take care of your teeth. Continue reading to learn some holiday oral health tips from your dentist in Temple.
Bring Floss
Whether you are spending thanksgiving at your home this year or meeting up with some relatives for a slightly larger meal, you should be stocked up on some dental floss. For many, Thanksgiving dinner translates into being a day long feast. This means that you're starting out early in the day with some delicious appetizers before moving on to main courses, side dishes, and desserts. Between these courses, you should take some time to floss. Not only will you be able to dislodge food from between your teeth, but you will also be able to remove plaque buildups that could cause you to develop cavities.
Eat Tooth-Healthy Foods
Almost everyone loves some of the starchier sides like dinner rolls, stuffing, and mashed potatoes. However, these aren't the best options when it comes to your smile. It is a good idea to keep these portions to a minimum while leaving most of your plate open for nutritious foods with proteins and vitamins. Get plenty of turkey and vegetables!
Go Easy on Sweets
Some sides that everyone looks forward to are a bit stickier and sweeter than others. Unfortunately, cranberry sauce, gravy, and pecan pie aren't all that good for your teeth. Because they are sticky and contain sugar, they can stick to your teeth and cause you to develop cavities. It's okay to have a little but of these favorite treats but remember to rinse your mouth out with water afterwards to counteract their negative effects.
Avoid Drinking Wine
Many people like to enjoy a glass or two of wine with their Thanksgiving dinner. However, this beverage not only stains your teeth, but it also weakens your tooth enamel because of its acidity. Enamel is crucial for protecting your teeth from decay. If you want to enjoy an adult beverage with your meal, stick to a gin and tonic or a light beer instead.
This Thanksgiving, don't forget about your smile. While it is easy to get caught up in delicious meals and socializing, it is important to take steps everyday to maintain optimal oral health.
About the Author
Dr. Richard Fossum earned his dental doctorate from the University of Texas Dental Branch in Houston and has been practicing for more than two decades. He is a member of the American Dental Association, Texas Dental Association, Central Texas Dental Society, and the Academy of General Dentistry. For more information on maintaining good oral health or to schedule an appointment, visit his website or call (254) 778-3900.