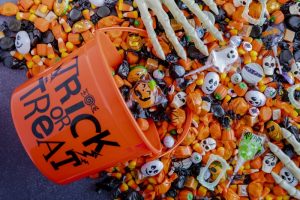 Your child has been training for Halloween like it's the Olympics, bending their arm from an imaginary candy bowl to their mouth and back repetitively. Pointing to all the candy varieties in the grocery store that they will be enjoying for weeks to come.
Okay, maybe it's not quite this intense, but odds are they are looking forward to eating a lot of candy. A lot.
As a parent, you're probably more concerned about their teeth surviving this sugar surge than they are. Here are some Halloween oral health tips to consider from your dentist in Temple.
Come In with a Game Plan
Your child will want to keep all the candy from the fruits of their trick-or-treating labor, but maybe you can have them pick their favorites. You might have small prizes you can give your child in exchange for some of their candy. Maybe let them pick a family outing destination if they'll trade in some candy. And, of course, oral hygiene is more important than ever when their sugar consumption is up – brushing and flossing twice a day (30 minutes after eating candy) plus rinsing with mouthwash.
Try to Suggest Specific Candy
If you have the opportunity, try to steer them away from lollipops and other hard candy that can cause broken teeth. Additionally, sticky treats like caramel and taffy can cling to their teeth and increase their chances of developing cavities. Bacteria feed off the sugar that sticks around and it creates an acidic byproduct that erodes tooth enamel. Sugar-free candy is certainly worlds better, as is dark chocolate instead of the milk variety.
Drink Lots of Water
Fluoridated water can help prevent tooth decay. If your child drinks water of any variety as they eat candy, that's better for their teeth than nothing. If they don't already know about swishing water around in their mouth for an impromptu rinse to remove food particles, that's a good tip that will help them on Halloween and the other 364 days of the year.
Limit Candy Time
In the days after Halloween, setting a specific time window that your child is allowed to have candy can be very helpful. Not only to avoid huge consumption, but you can have them brush their teeth afterwards. Eating candy right after a meal is best because saliva production will already be increased, and it neutralizes the acid produced by bacteria.
Sugarless Gum Is Always a Good Idea
A great choice after meals, candy, or just about any time, sugarless gum increases saliva flow to help keep cavities at bay.
Set a Post-Halloween Dental Checkup
Right after your child likely eats the most candy they will all year, a professional cleaning by your dentist in Temple comes at the perfect time for their oral health. The dentist can screen for any potential cavities and see if any teeth have damage that need treatment.
It's okay for your child to have some candy on and around Halloween; they've probably been dreaming of the opportunity, after all. But some planning on your part that they never have to know about can really do a big favor for their teeth heading toward the holiday season.
About the Practice
At Fossum Dental Group, we believe in personalized treatment to help achieve your smile goals. You're going to receive outstanding service at our conveniently located office. Using the tips in this post can be helpful to navigate your child's Halloween candy consumption, and we hope you'll bring them in during November for a well-timed exam and dental cleaning. To schedule an appointment, visit our website or call (254) 778-3900.