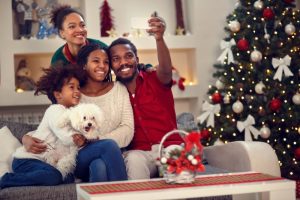 The discovery of what's hidden inside a stocking is one of the fun and adventurous parts of the holiday season. While candy is a common stocking stuffer, your dentist in Temple says this is the year to start a new trend: to give teeth-friendly items in place of sugary delights. Read on to learn about some healthier alternatives that will help to prevent any holiday cavity development, and preserve your family's beautiful smiles!
What's Wrong with Candy?
Candy canes, various types of chocolate, cookies and other treats can usually be found hidden inside a holiday stocking. Such items can potentially pose an oral health challenge. That's because they will typically contain an abundance of sugar, which is the food of choice of oral bacteria. With a little creativity, though, you can offer a gift that will help to fortify your loved one's oral health.
A New Toothbrush
It's a good idea to replace a toothbrush every 90 days, and chances are, your spouse-partner or child is a little behind. You can help out, though, by offering a brand-new toothbrush. To promote the best oral health possible, be sure to choose one with soft bristles with the appropriate-sized head for whomever you're purchasing it for.
Sugar-Free Chewing Gum
For those in your family who have a "sweet tooth," you can give them sugar-free chewing gum. Not only will it help to satisfy a craving, but it will also aid in removing lingering debris after a meal. This is especially handy at times when it's not possible to perform the normal oral hygiene routine of brushing and flossing.
Flavored Dental Floss
Flossing on a regular basis is just as important as toothbrushing because of its ability to get into the tight spaces between the teeth. A great way to encourage your family to take action is to give them flavored dental floss. Now, this simple yet necessary procedure can become an anticipated event.
Sports Mouthguard
If you have a child who participates in sports, then there is always the chance of him or her having a sudden collision that could lead to a broken or dislodged tooth, or a severe cut. However, there is a preventive measure that can be taken: to give him or her a sports mouthguard.
Not only will it contribute to his or her safety, but it's also a great way to show support.
By implementing these simple tips, you'll have less worries about any of your family members suffering from cavities, gum disease, injuries or any other oral health issues. Instead, you can spend more time enjoying the precious holiday moments with them!
About the Author
Dr. Richard Fossum is a graduate of the University of Texas Dental Branch in Houston. Throughout his career, which has spanned over 20 years, he has always placed an emphasis on patients taking advantage of preventive dental care. Thus, Dr. Fossum provides detailed checkups and cleanings at Fossum Dental Group. He can be reached for more information through his website.