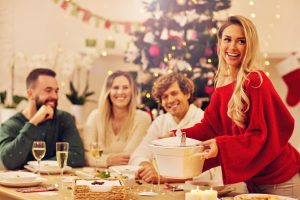 Now that the crisp fall winds have begun to blow, it's only right for you to start getting into the holiday mood. Unfortunately, at this time of the year, oral health can easily be placed on the "back-burner." Your dentist in Temple says that you can still enjoy the festivities without compromising the health of your teeth and gums. Read on to discover 5 helpful tips for maneuvering through the holiday season while preserving your oral health!
#1 – Create a Budget
This type of budget has nothing to do with your wallet. Instead, before a holiday event, you should determine how much you'll indulge in the delights. By monitoring how much you eat, you can limit the chances of harmful oral bacteria growing.
#2 – Drink Water
We all know that drinking water is necessary for staying properly hydrated. However, when it comes to your oral health, it offers an added benefit. Drinking at least one glass of water after a meal or dessert helps to flush your mouth of leftover particles that could collect on your teeth and gums and attract bacteria.
#3 – Eat More Protein
At the typical holiday gathering, you'll find an array of foods loaded with carbohydrates. While there is no denying their deliciousness, these types of foods are packed with sugar. To curb your appetite for such foods, make sure to add some protein to your plate, which can be found in the form of cheese, nuts, turkey, chicken or other meats that may be on the menu.
Additionally, protein-rich foods are usually high in phosphorus, which is essential to having strong and healthy teeth.
#4 – Practice Excellent Oral Hygiene
If there ever was a time to step up your oral hygiene, it's during the holidays. By brushing and flossing consistently, you can prevent the growth of oral bacteria. If you're planning on cleaning your teeth after a meal, though, be sure to wait around 15-20 minutes to prevent any damage to your enamel (the hard-outer part of the teeth).
#5 – A Great Time for a Dental Visit
It's in your best interest to get in for a dental visit at this time of the year. You'll be provided with a cleaning and thorough examination that will identify any budding problems like cavities or gum disease. Therefore, as the year comes to a close, you can know for sure the status of your oral health and be protected from bacteria causing havoc.
To make this an enjoyable and safe holiday season, contact your local dentist to schedule a visit today!
About the Author
For over 20 years, Dr. Richard Fossum has been helping patients experience exceptional oral health. The University of Texas Dental Branch in Houston graduate understands the allure of festive foods, beverages and other treats during the holiday season, which is why he encourages patients to visit around this time of the year. Therefore, he can make sure everything is in order and provide some pointers on how to protect their oral health. Dr. Fossum practices at Fossum Dental Group, and he can be reached for more information through his website.