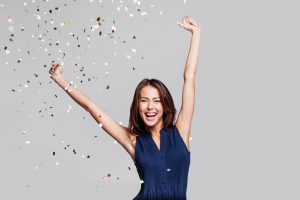 The new year presents renewed opportunities to set goals and make changes that improve your quality of life. While many people focus on improving their physical health by exercising more or committing to a popular diet plan, it is important not to forget about your oral health. After all, a healthy smile is a key component of a healthy person! If you want to know how to take better care of your teeth and gums in 2019, here are 5 tips from a dentist in Temple
#1: Floss Every Day
Even if you are diligent about brushing your teeth twice every day, tiny particles of food can get stuck in between teeth and in hard to reach places in your mouth. For a more thorough cleaning, be sure to floss at least once every day after brushing.
#2: Eat These Mouth-Healthy Foods
Your diet has a big impact on your oral health. Try including some of these mouth-healthy foods on your plate each day:
Fruits and vegetables – Apples, carrots, celery and other fruits and veggies stimulate saliva production, which helps wash harmful acids and food particles away from your teeth
Dairy products – Milk, yogurt, cheese and other dairy products are all high in calcium, which helps keep teeth healthy and strong
Protein – Eggs, beans, and legumes contain valuable protein and are all rich in phosphorous, which benefits your mouth
#3: Reduce Your Sugar Intake
Do you have a sweet tooth? Consuming a lot of sugar can lead to cavities. Try swapping sugary soda with sugar-free seltzer water or chewing on a piece of sugar-free gum when you are craving something sweet.
#4: Say Goodbye to Tobacco
Tobacco use has been linked to a host of serious oral and overall health problems, including:
Increased risk of gum disease and tooth loss
Bad breath and stained teeth
Increased risk of type 2 diabetes
Increased risk of heart disease and stroke
Increased risk of oral cancer
While it will not be easy, commit to making 2019 the year you finally kick the tobacco habit once and for all!
#5: Schedule a Routine Checkup
Regular visits to a dentist in Temple are key to maintaining good oral health. In fact, the American Dental Association recommends visiting the dentist every six months for a routine checkup. During a biannual visit, a dental professional will expertly remove plaque and tartar buildup, check for signs of tooth decay and other oral health problems – including oral cancer – and recommend treatment where necessary. It is also an opportunity for you to have a conversation with your dentist about ways to improve your oral care at home.
Start the new year off right by embracing these 5 recommendations for maintaining a healthy mouth. Doing so will keep you smiling all year long!
About the Author
Dr. Richard Fossum has over 20 years of experience creating beautiful, healthy smiles that last a lifetime. The University of Texas graduate enjoys sharing his knowledge with patients and takes numerous hours of continuing education each year to learn about the latest dental care procedures, technology and safety standards. Patients with more questions about how to maintain a healthy mouth in 2019 can visit the Fossum Dental Group website or call Dr. Fossum at the office at 254-778-3900.