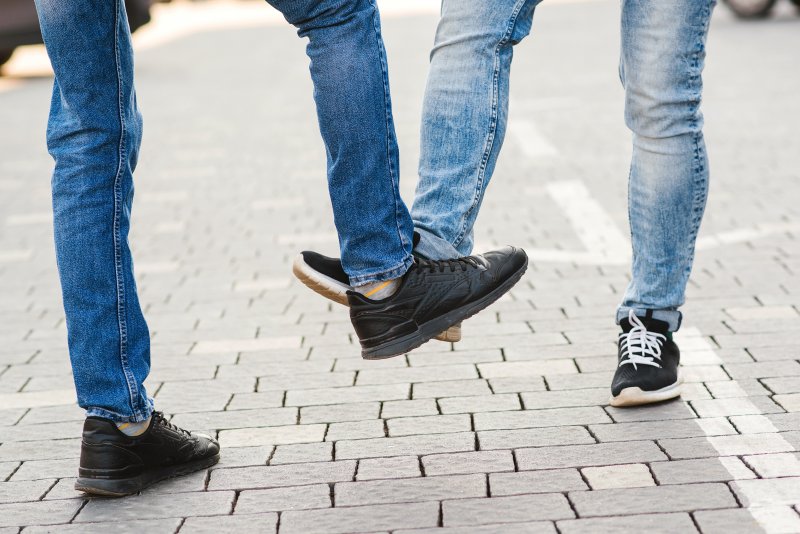 Normally when you come into the office, a friendly member of your dental team will say hello by giving you a hug or shaking your hand. Due to the current events going on in the world, these options are off limits until a safer time. Because of their close nature, you can easily spread illnesses or disease. In order to be safe, it's important to practice social distancing as much as possible. Continue reading to learn about some fun ways that you can greet your dentist in Temple next time you come to the office.
Which Greetings Should I Abstain from Using?
Everyone enjoys a friendly hello; however, these greetings may be just a little too close for comfort at this current time:
Shaking Hands: Even though they're great for professional encounters and meeting your significant other's parents for the first time, handshaking can easily spread germs from one person to another. This is because people frequently touch different surfaces and their face.
Hugging: For closer friends and family, a hug may be the norm. As nice as hugs are, they require quite a bit of close contact. Therefore, they should be avoided till a later time.
High-Fiving: This isn't as bad as a handshake when it comes to spreading germs, but it still involves the touching of the surfaces of your hands and can transmit illnesses.
La Bise: Cheek kissing is popular amongst many cultures, including in France. It is a nice gesture but involves touching your face to someone else's and can spread diseases.
Which Greetings Should I Be Using Instead?
You can be creative when it comes to greeting people. Here are a few ideas that others have been using:
Elbow Bump: This greeting was popularized after the start of the COVID-19 pandemic. It includes two people bending their right arms and touching elbows. Even though it isn't contact-free, it is much safer than a handshake because the majority of people don't constantly touch their elbow to their face.
Foot Bump: This became popular after going viral on social media from places like China and Iran during the start of the pandemic. It simply involves tapping feet with another person. If both people are wearing shoes, it involves no skin to skin contact.
Namaste: This is a greeting that is mostly popular among southeast Asian countries like India and Thailand (where it is known as the "wai"). First, place your palms together with your fingertips pointing towards the sky and your thumbs at your chest. It is complete with a slight bow of the head.
Other Creative Greetings: If you aren't a fan of the ones listed above, you have plenty more options. You could try jazz hands, air high-fives, bowing, curtsying, or just a classic peace sign. The possibilities are endless!
Your dentist in Temple appreciates everything you are doing to keep yourself and others safe. Be sure to send some of these creative greetings to your dental team because they'll definitely be using some with you!
About the Practice
At Fossum Dental Group, Dr. Richard Fossum and Dr. Courtney Grosskopf are committed to providing dental care in a safe environment. Dr. Fossum earned his DDS from the University of Texas Dental Branch in Houston and has gained 25 years of experience. Dr. Grosskopf got her DDS from the University of Texas Health Science Center in San Antonio and completed a general practice residency at the Medical College of Georgia. The team has added 14 additional steps, like refraining from hugs and handshakes, to keep their office safe during the COVID-19 pandemic. For more information or to schedule an appointment, visit their website or call (254) 778-3900.