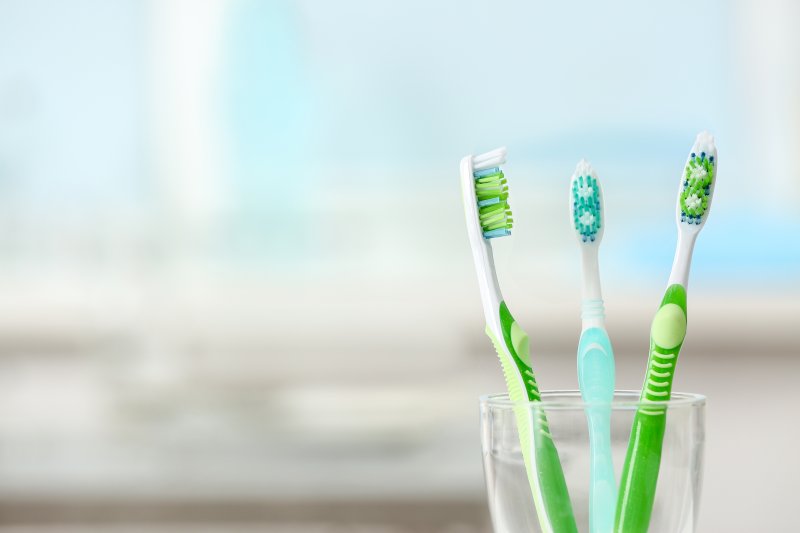 If you want to preserve healthy teeth and gums, you'll need to practice good oral hygiene every day. While this typically involves brushing and flossing your teeth regularly, you'll also want to pay attention to the condition of your toothbrush. Should you use the same one for too long, you can end up putting yourself at risk of developing cavities or gum disease! You'll want to change it out eventually, but how often should you replace it? Read on to learn how frequently your dentist in Temple suggests you should switch to a new toothbrush.
When Should You Change Out Your Toothbrush?
Many people tend to wait until their bristles are completely worn down or splayed before they decide to change out their toothbrush. By the time you choose to make the switch, it may already be infested with millions of bacteria that will constantly be in contact with your pearly whites. This will increase your chances of experiencing various oral health issues, such as decay and infection. To avoid these complications, the American Dental Association highly suggests replacing your toothbrush every three to four months (or sooner if you recently got sick).
4 Reasons to Regularly Replace Your Toothbrush
If you don't typically change your toothbrush often, you might wonder why you should begin doing so now. The bristles seem to be intact and your smile is getting a decent cleaning, so what's the harm, right? Unfortunately, your teeth can end up at risk with this kind of thinking. Here are several essential reasons you should switch your toothbrush often:
Bacteria can accumulate on the bristles, impacting your oral and overall health.
Frayed bristles won't clean your teeth as effectively.
Worn bristles may become sharp and contribute to gum recession.
Splayed bristles can lead to excessive brushing, irritating your gum tissue.
4 Tips on Finding a New Toothbrush
With a wide variety of toothbrush brands, it can be difficult to find the right one for your smile. To keep you from feeling overwhelmed by your options, here are four tips to keep in mind when searching for the perfect product:
Consult your dentist first so they can recommend the best toothbrushes for you.
Check for those with soft bristles, which can clean your teeth efficiently without exacerbating your gums.
Try switching to electric toothbrushes, as these can help make cleaning easier.
Choose a toothbrush with the ADA Seal of Acceptance.
If you aren't sure when you last bought a new toothbrush or the one you're using is looking a little worn down, now's a good time to replace it. You'll be able to effectively maintain your pearly whites and preserve great oral health in the long run!
About the Author
Dr. Richard Fossum earned his dental doctorate from the University of Texas Dental Branch – Houston. He's also a proud member of several organizations such as the Academy of General Dentistry and the American Dental Association. He offers a wide range of advanced and all-inclusive services, including dental checkups/cleanings and periodontal therapy. If you'd like to know more about the best toothbrushes for your smile, visit his website or call 254-778-3900.