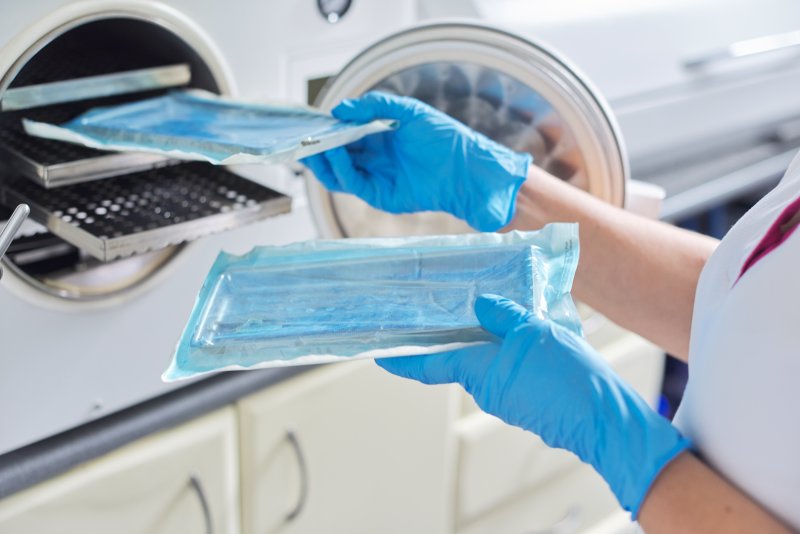 You were expecting a reminder about your summer dental appointment, but you didn't anticipate the anxiety that would come with it. After all, when you scheduled this appointment at the start of 2020 there wasn't a pandemic to consider. Now, there are stay-at-home orders in place and social distancing guidelines around every corner.
Fortunately, your dentist has practiced infection control guidelines set forth by the CDC and OHSA long before COVID-19. To ease your concerns about your upcoming appointment, your dentist in Temple is sharing how your dental team cleans their instruments.
How Are Dental Tools Cleaned?
To sterilize their instruments properly, dentists use an autoclave. This device uses steam heat to ensure that microorganisms cannot linger on the tools and spread from patient to patient. First, your dentist will place the contaminated tools into a sterilization pouch. From there, the instruments will be put into the autoclave until the color indicator changes (which means that it is thoroughly disinfected). Also, it is important to note that autoclaves are monitored externally with test strips that ensure the machine is working correctly. This guarantees a compromised tool is never used on a patient. In fact, the autoclave sterilization process is so effective that it is also used in hospital operating rooms and high-quality food production facilities.
Is The Dental Exam Room Sterilized Too?
While your dentist takes painstaking measures to ensure their tools are properly sterilized, the sanitation process does not stop there. To safeguard their office from cross-contamination, your dentist is also implementing extensive sanitation throughout their office. A few of these measures include:
Conducting thorough cleanings between each appointment.
Having deep cleanings each evening.
Using single-use tools when possible.
Wearing personal protective equipment while sterilizing tools.
Practicing extensive handwashing throughout the day.
Providing hand sanitizer to all patients before and after their visit.
Consistently wiping down public surfaces (i.e., counters, door handles, etc.).
Are There Any Additional Measures in Place Due to COVID-19?
In short, the answer is yes. In light of the current pandemic, additional measures have been put in place to ensure a safe environment for patients and staff alike. At your next visit, you can expect:
Daily health checks for staff.
Contactless greetings.
Pre-screenings of each patient (which includes a no-contact temperature check and questionnaire).
Social distancing-friendly waiting rooms.
Installed clear barriers.
To continue to uphold the highest standard of cleanliness, dental offices are using their time, skill, and resources. Although these measures can seem exhaustive, your dentist is happy to implement them to ensure that your next visit is safe for both you and their staff!
About Fossum Dental Group
One important mission unifies the team at Fossum Dental Group: to improve the oral health of their community with world-class dental services. Led by Dr. Richard Fossum, the team at Fossum Dental is dedicated to delivering exemplary care in a safe environment. If you have any questions about how they are practicing dental safety during COVID-19, don't hesitate to visit their website.