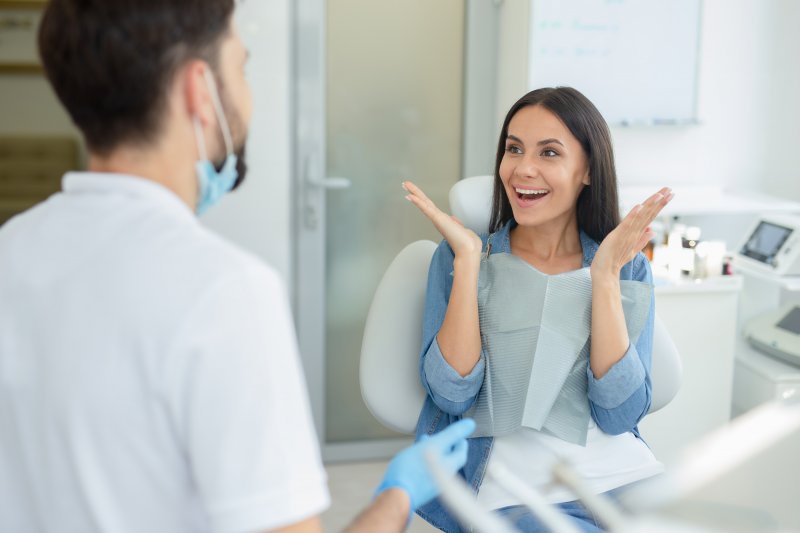 Most people wish they could show off a perfect smile. If this is something you're interested in achieving, you might be considering undergoing a smile makeover. Depending on your situation and dental needs, your dentist in Temple can combine restorative and cosmetic treatments to effectively enhance your pearly whites! Before committing to any procedures, here are five important questions you should ask about your smile makeover.
#1: What Dental Issues Can a Smile Makeover Fix?
Nearly any dental problem can be addressed or corrected with a variety of cosmetic treatments. Whether you have chipped, stained, crooked, gapped, or misshapen teeth, most dental imperfections can be treated with a smile makeover. After performing a thorough examination of your oral health, your dentist will be able to walk you through the options that can help you achieve your dream look.
#2: Can I See Before & After Examples of Previous Patients?
Make sure to ask for examples of past patients, especially those who experienced similar dental concerns as yours. Not only will your dentist be happy to share their work, but they'll also want you to have a clearer idea of what you can expect from your procedure. This way you'll feel much more confident about your treatment plan.
#3: Will My Results Look Natural?
Some patients are hesitant to undergo cosmetic dentistry because they're worried their results might appear fake or overdone. However, thanks to advancements in dental technology and techniques, you can be sure your dentist will create flawless and natural-looking results. The quality of your new pearly whites might depend on the dental professional's expertise and skills, so find a cosmetic dentist who has the proper qualifications and experience before committing to any work.
#4: How Long Will My Smile Makeover Take?
Every patient's dental situation will be different, so it's difficult to estimate the timeframe of your smile makeover without scheduling an initial consultation. Depending on your specific needs and desired results, you may simply need a single appointment or require multiple visits to correct several imperfections. After conducting a thorough dental examination, your dentist can provide you with a more accurate estimate of your treatment timeframe.
#5: What Can You Do to Make My Smile Makeover Last?
A smile makeover is no walk in the park, so you'll want a cosmetic dentist who can give you the quality results you desire. Although no dental work can last forever, the right professional will be able to ensure your new pearly whites endure for as long as possible. Feel free to ask about your dentist's plan to maximize the longevity of your smile makeover. If they aren't able to explain it, you might not expect your results to be effective past the first year.
Be sure to keep these few questions in mind during your smile makeover consultation. By getting the answers you need, you can be sure to feel more confident and well-informed about your decision to enhance your pearly whites!
About the Author
Dr. Richard Fossum received his dental degree from the University of Texas Dental Branch – Houston. He's also a member of several prestigious organizations like the Texas Dental Association and the Academy of General Dentistry. He offers a wide variety of high-quality and all-inclusive treatments, including teeth whitening, veneers, dental crowns, and Invisalign. If you'd like to set up a consultation for a smile makeover, visit his website or call 254-778-3900.