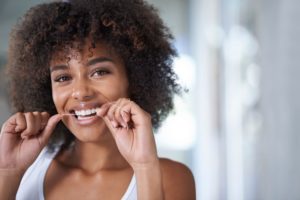 When it comes to your oral health, it's not just about how straight or bright your teeth are. Your gums are actually just as important. Even if you hardly ever get cavities, that doesn't mean you're impervious to gum disease. Left untreated, gum disease can lead to pain, swelling, and even tooth loss. Fortunately, this condition is entirely preventable. A dentist in Temple offers these six simple tips for maintaining healthy gums.
Floss
Flossing at least once a day can remove plaque that your toothbrush can't reach, according to the American Dental Association (ADA). It doesn't matter whether you floss in the morning, after lunch, or right before bed, just as long as you do it at all.
Get Routine Dental Cleanings
Your dentist can detect early signs of gum disease before you even notice that anything is wrong. During the cleaning, a hygienist removes built-up plaque and tartar that contribute to gum infections.
Stop Smoking
Research has suggested that people who smoke are more than twice as likely as nonsmokers to develop gum disease. Plus, smoking slows healing and impairs your immune system, making it harder for your body to fight off and heal from gum disease.
Brush Twice a Day
Brushing removes food debris and plaque that may be lingering on your teeth. In addition to brushing the front, back, and chewing surface of each tooth, you should scrub your tongue as well. The tongue can harbor bacteria and deposit them onto your teeth.
Use Fluoridated Toothpaste
Fluoride, a naturally occurring mineral, strengthens your tooth enamel and makes it more difficult to bacteria to damage your smile. Whatever flavor of toothpaste you choose, look for the ADA Seal of Approval on it. That means the ADA has determined it contains enough fluoride to benefit your oral health.
Rinse with Mouthwash
Even though rinsing with mouthwash is not an adequate substitute for brushing and flossing, it can remove food particles and bacteria in parts of your mouth that your toothbrush and floss cannot access. Many mouthwashes are specifically designed to fight gum disease by reducing plaque. Again, make sure it has the ADA Seal of Approval.
Keeping your smile healthy and bright involves caring for more than just your teeth. Luckily, maintaining healthy gums isn't hard as long as you stick to these tips.
About the Author
Dr. Richard Fossum is a dentist in Temple, TX who studied dentistry at the University of Texas in Austin and graduated from the University of Texas Dental Branch in Houston in 1995. He is an active member of several professional organizations, such as the ADA, the Texas Dental Association, the Central Texas Dental Society, and the Academy of General Dentistry. For more information on preventing gum disease, contact Dr. Fossum's office at 254-778-3900.