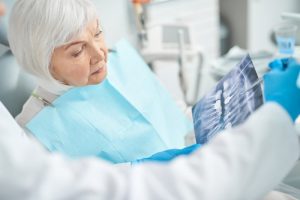 Regardless of where it's discussed, cancer is always to be taken seriously when it's in reference to your health. Those talks might generally take place in a doctor's office but don't rule out your dentist's office, either. One person dies from oral cancer in the U.S. every hour on average, according to the American Cancer Society. While that statistic is worrisome, it is important to remember an early diagnosis and prompt treatment can improve your chances of survival. With that in mind, read on as your dentist in Temple shares the signs, risk factors, and prevention tactics.
What Are Potential Signs of Oral Cancer?
With cancer, it is common for symptoms to vary from person to person. However, there are some frequent signs that many patients experience. Therefore, it is important to look for:
Trouble moving your jaw or tongue
Frequent bad breath
Unintended weight loss
Feeling like something is caught in your throat
White or red mouth sores on your gums, tonsils, or the lining of your mouth
Swelling in your neck
A lump in your cheek
Difficulty swallowing or chewing
What Elevates Your Risk of Getting Oral Cancer?
Although oral cancer has been a prevalent health issue for decades, extensive research is still underway on what exactly causes it. However, researchers have pinpointed certain behaviors and conditions that put patients at a higher risk of being diagnosed:
Extended sun exposure
Being over the age of 45
Having another type of head or neck cancer
Using tobacco products
Consuming a large amount of alcohol
Contracting the human papillomavirus (HPV)
The Importance of Consistent Dental Exams
Fortunately, mouth cancers are recognized as one of the most preventable types. In fact, if it is diagnosed in the early stages, the survival rate is up to 81 percent compared to roughly 45 percent at the five-year mark.
So, it is of the utmost importance to minimize your risk by limiting sun exposure, eating a balanced diet, quitting poor oral habits like using tobacco products, and visiting your dentist regularly. Make sure to talk to your dentist in Temple soon about scheduling a biannual exam and oral cancer screening!
About the Practice
At Fossum Dental Group, our dentists have a passion for helping patients achieve excellent oral health. With a highly trained staff and state-of-the-art equipment, you can expect to be comfortable as you receive effective treatments every time. Oral cancer screenings are a standard part of our checkups, plus you can ask our dentists about a cancer screening that utilizes Velscope technology. Velscope is an identification and marking system that detects tissue abnormalities and is used in combination with traditional visual exams. Schedule an appointment on our website or by calling (254) 778-3900.