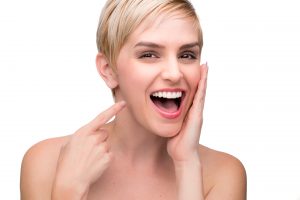 A recent data set shows that at a first-time meeting, one of the more memorable features is the condition of a person's teeth. That means teeth stains and discoloration could contribute to making an unfavorable initial impression. Thankfully, there's an effective solution with professional teeth whitening. As you read on, your dentist in Temple lists 4 ways having your teeth whitened can enrich your life!
How Teeth Whitening Works
The usual method for teeth whitening is for your dentist to first secure your lips and gums to prevent any irritation from the high-powered bleaching agents. Then, using the Zoom! method, the stubborn stains and discoloration you may have once thought were permanent, can finally be lifted.
This is accomplished by your dentist applying the whitening gel in 15-minute increments and up to three times. So in just around an hour, your teeth will be left up to 10 shades brighter. Once your smile is revamped, there are some definite perks that come along with it.
#1 – Teeth Whitening Improves Your Appearance
You're well aware that your appearance may be subject to criticism in a hyper-visual world. Thus, you're looking for an effective way to create the most aesthetically-pleasing smile possible.
A brighter set of teeth can contribute majorly in this area.
#2 – Your Confidence Recharged with Teeth Whitening
When you take steps to improve your appearance, it naturally has a positive impact on your confidence. As part of a "domino effect," the increased self-esteem you have then permeates the environments and the people you're around to positively influence them.
#3 – Teeth Whitening Helps to Overcome Unflattering Wrinkles
Through a sort of optical illusion, having brilliantly-white teeth helps to take attention away from any wrinkles that could leave you looking older. Instead, the people you encounter will be more likely to think you're younger than you actually are.
#4 – Be More Approachable with Teeth Whitening
You want to make sure you exude positive energy in all your interactions with people. A set of professionally whitened teeth that create a perfect smile can help you achieve this goal.
Does Teeth Whitening Damage Enamel?
One of the biggest myths about teeth whitening is that it damages the protective enamel (the hard, outer surface of your teeth). Another misconception is that the procedure also causes increased sensitivity to hot and cold foods and beverages.
The reality is that teeth whitening is purely cosmetic, and it only works on the surface of your teeth. The whitening agents create a chemical reaction that frees the trapped particles that have caused the blemishes, leaving you with a brand-new smile that dazzles.
So to experience the joy that having a beautiful set of white teeth brings into your life, contact your local dentist to schedule a consultation today!
About the Author
Dr. Richard Fossum earned his dental degree from the University of Texas Dental Branch in Houston. Nearly 25 years later, he's just as passionate about creating beautiful smiles as he was at the beginning of his career. Dr. Fossum combines his years of experience with a constant drive to expand his knowledge to provide his patients with the absolute best in cosmetic dental care. He brightens smiles with Zoom! teeth whitening at Fossum Dental Group, and he can be reached for more information through his website.