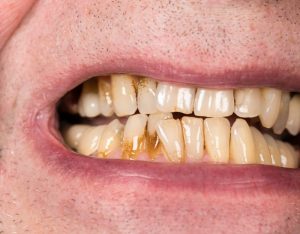 One of the most prevalent dental health issues facing Americans is gum (periodontal) disease, a condition that 85% of US adults suffer from. The first step to reversing this disturbing trend is for the populace to become better educated about the causes and stages of the condition. As you read on, your dentist in Temple provides insight into gum disease and what can be done to restore your health.
What is Periodontal Disease?
The main cause of periodontal disease is the accumulation of bacteria. Over time, if not addressed, hundreds of different types of bacteria form a super-structure called plaque, which is a clear, sticky substance that clings to the teeth and eventually works its way beneath the gumline.
If not treated, it causes inflammation of the gums and a cascade of other negative effects.
Stage #1 – Gingivitis
The first stage of gum disease, called gingivitis, is important to identify and treat. That's because at this point, any damage incurred can still be reversed through proper treatment and habit changes.
The symptoms to be on the lookout for are inflamed, bleeding, red, puffy or sensitive gums. If any of these traits are noticed, you should immediately reach out to your dentist to be examined.
Stage #2 – Periodontitis
If the initial stages of gum disease aren't treated, then the condition can eventually progress to periodontitis. At this point, there may be damage to the ligaments, bone and other tissue that hold your teeth in place.
Along with advising you of habit changes to make and ways to improve your oral hygiene practices, your periodontist may recommend one or both of the following forms of treatment:
Topical Antibiotic – For more moderate cases, your dentist may recommend treatment with a topical antibiotic called Arestin, which helps to control the infection in your mouth.
Scaling and Root Planing – Another form of treatment available is a scaling and root planing procedure, which is used to clear away bacteria that have collected and formed gum pockets. Additionally, the roots of your teeth will be smoothed to prevent the accumulation of bacteria in the future.
Stage #3 – Advanced Periodontitis
The most severe form of gum disease is advanced periodontitis. At this point, the disease has caused more significant damage that could result in the roots of your teeth being dissolved, leaving your teeth susceptible to falling out.
For more advanced cases, your dentist may recommend treatment with LANAP (Laser Assisted New Attachment Procedure). This form of therapy involves the usage of a PerioLase laser to remove bacteria and diseased gum tissue.
Gum disease is a serious condition that won't self-correct, so it's important to seek the help of a trained professional to receive the therapy you need to restore your oral health.
About the Author
Dr. Richard Fossum earned his dental degree from the University of Texas Dental Branch in Houston. He has since gone on to take numerous hours of continuing education in a host of areas. Additionally, Dr. Fossum has undergone the rigorous training necessary to be certified in LANAP therapy, which he uses to treat gum disease at Fossum Dental Group. He can be reached for more information through his website.