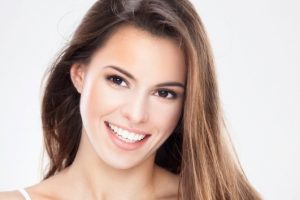 If you are missing or on the verge of losing teeth, it's time to start researching your options in tooth replacement. Maybe that's what brought you here — you've heard a lot about dental implants in Temple and you want to know if they are the best option for your smile. If you are in good oral and overall health, we've got good news: you are likely an excellent candidate for dental implants! The team at Fossum Family Dental is pleased to provide comprehensive implant dentistry for maximum convenience and results.
What Are Dental Implants?
A dental implant is a small titanium post that takes the place of a missing tooth's root. It promotes the growth of bone tissue to actually fuse together with your jaw in the process known as osseointegration. Other options in tooth replacement, by comparison, only give you back the visible portion of the tooth. A single dental implant can support a dental crown, while multiple can be used to support a bridge or a partial/complete denture.
The Power of a Comprehensive Replacement
When you have lost a tooth, you are missing more than just the part you see when you smile. Unless we replace the entire structure, your jaw bone will lack the blood flow and nutrients it needs to stay healthy and whole. Additional tooth loss and the gradual degeneration of the jaw bone are sure to occur as a result.
Dental implants stabilize the jaw to help it retain its shape, preventing the loss of more teeth while also supporting a wide diet and allowing you to speak without worry of gapped teeth or a loose or ill-fitting denture. That makes dental implants well worth the investment, especially in younger patients.
Multiple Benefits of Dental Implants
Dental implants offer a number of benefits, many of which we have already touched on. Some of the most important advantages associated with this comprehensive tooth replacement option include…
A whole-tooth replacement that stabilizes your jawbone to promote better oral and overall health.
The most natural-looking option available in tooth replacement.
Dental implants can correct prior dental misalignments.
They restore your ability to eat, speak, and smile with confidence.
Dental implants can last for many years with proper maintenance.
Are You a Candidate?
Many patients are eligible candidates for dental implants. If your tooth loss is recent and you are in solid oral and overall health, chances are good that you are, too. Don't wait to find out about how dental implants can complete your smile! We can't wait to help you enjoy all the benefits of this wonderful tooth replacement option.
About Fossum Family Dental
The team at Fossum Family Dental is pleased to offer comprehensive dental care to patients of all ages. To learn more about their services or to discuss tooth replacement and your eligibility for dental implants, you are invited to contact the office at 832-595-2266.