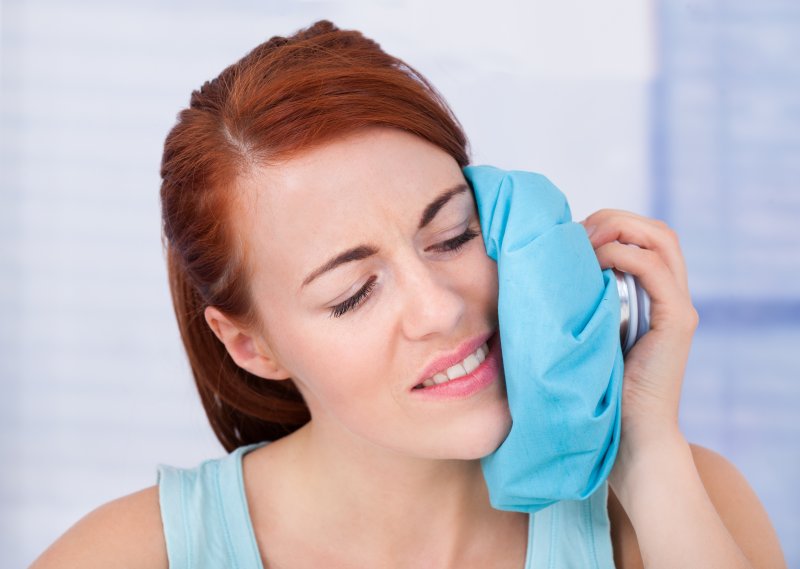 Out of all the tooth replacement options out there, dental implants have become a favorite among patients and dentists alike. In fact, dental implants have already given over 3 million Americans their smile back! As advantageous as they are, you can't just come out of your procedure and go on like you normally would. During the healing process, your dentist gives you special instructions to ensure that your implants have the greatest chance of being successful. Continue reading to learn everything you need to know about dental implant aftercare.
Immediately After Surgery
On the day of your surgery, it is important to leave the site of the implant completely undisturbed. This means that you need to avoid rinsing, spitting, or touching the wound. For the first 24 hours, you can expect to see some bleeding or redness in the saliva. Swelling is also a normal occurrence after the surgery. In order to minimize this, apply an ice bag on the cheek where the surgical site is.
Once the local anesthetic is wearing off, you should begin taking pain medication. Acetaminophen and ibuprofen are great options. Remember to take the medication as instructed. For severe pain, medication prescribed by your dentist should be taken as directed.
Keeping the Surgical Site Clean
Remember that proper oral hygiene is a must, especially after surgery. At this time, you are especially vulnerable to infections that could result in a dental implant failure. Brush your teeth as you normally would except avoid the surgical site. Rinse your mouth with a glass of warm water with a teaspoon of salt added after every meal. This helps to wash away food debris and prevent infections from occurring. Do not rinse vigorously because you could interfere with the healing process.
What to Eat
After your surgery, you will want to take it easy for a while. Only liquid and soft foods should be consumed on the day of your procedure. Remember to chew your food on the opposite side of your mouth as your implant was placed and avoid hot foods and beverages for at least a week. Continue to eat soft foods until you no longer feel post-operative symptoms. Most importantly, stay hydrated!
Other Things to Remember
Don't smoke for at least two months after your procedure
Get plenty of rest
Abstain from drinking alcohol for at least 72 hours after your implants are placed
Schedule a follow up appointment with your dentist to check on the healing process
Once your implants have completely healed, you will have your fully functional smile back with no restrictions on what you can eat. By taking good care of your mouth after your procedure, you are setting your dental implants in Temple up for a long-term success.
About the Author
Dr. Courtney Grosskopf and her team provide several different tooth replacement options, including dental implants, at Fossum Dental Group in Temple, TX. She earned her Doctor of Dental Surgery from the University of Texas Health Science Center in San Antonio and completed a General Practice Residency at the Medical College of Georgia where she learned about IV sedation and implant dentistry. For more information on dental implants or to schedule a consultation with Dr. Grosskopf, visit her website or call (254) 778-3900.