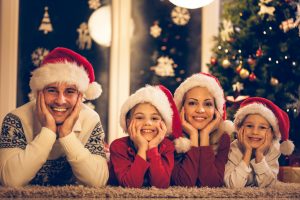 The holidays are quickly approaching, and it'll be New Year's soon after. That means you are going to be spending a lot of extra time with friends and family. You want to go into all of the parties and dinners with confidence, and one of the best ways to do this is by knowing that you have a gorgeous smile. Teeth whitening is one of the simplest ways you can enhance your smile and look your best this season, and you can get it today from your cosmetic dentist in Temple, Dr. Richard Fossum.
Why Are My Teeth Discolored?
Common factors like coffee, wine, tobacco, diet, and even genetics can affect the color of your teeth. Many of them have elements that can cause stains. Plus, as the years go by, the enamel on your teeth naturally begins to break down. Underneath it is a layer of dentin, which is actually yellow. Your enamel is transparent, meaning that just a small amount of wear can change their appearance. Teeth whitening is meant to eliminate stains and stop this process in order to restore your teeth back to their original color and shine.
How Teeth Whitening Works
Nearly 90% of the people who see Dr. Fossum want their teeth to be whiter. This is because white teeth are one of the greatest social signifiers in our society, as people with white teeth are often thought of as more attractive, intelligent, and friendly.
When you come in to get your teeth whitened, the first step is to clean them of any leftover food or plaque. Then the special Zoom! Whitening bleaching gel can be applied to them. It is able to break up years of stains on your teeth and help reveal their underlying radiance.
Once the gel is applied, a special high-intensity light will be used to activate it. This light actually heats up the gel and helps it work faster. After 15 minutes, we will wipe away the gel and start the process over again. We will do about 2-3 rounds depending on the level of whiteness you are looking for. Most patients are out of the office in about hour.
This process has been shown to make your teeth up to 8 shades whiter in one visit, and simple brushing and flossing can help maintain the results for months. We can even provide you with a take-home kit so that you can whiten your teeth on your own schedule. You only need to use the kit for about 30 minutes a day for 2 weeks to get the full result. They can also be used to give your in-office treatment an occasional touch-up. These kits are custom made and are much more effective and longer-lasting than typical store bought kits.
Can It Help Me?
If you are looking to dramatically improve the color of your teeth, Zoom! Whitening is the best possible treatment. It is not intended to treat things such as damaged teeth, misaligned teeth, or obvious gaps. However, we do have other wonderful procedures that can easily take care of them all.
The holiday season can be stressful enough without you needing to worry about your smile. You can glide through them with confidence thanks to teeth whitening from your dentist in Temple, so make an appointment today.