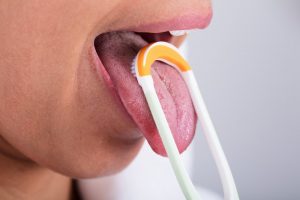 The COVID-19 outbreak has taken the country by storm, forcing businesses to shut down, schools to close and Americans to shelter in place. While these are tense and anxious times, is it possible that some opportunities have been presented? When it comes to making improvements in your oral care habits, your dentist in Temple says you have a chance to step-up your efforts. Read on to find out what you can do to take your dental care to the next level!
Clean Your Teeth More Often
Most Americans stay on-the-go. Thus, many are lucky to even brush their teeth twice a day. But, with more time around the house, you can really step things up. Since oral bacteria are always on the prowl, looking for leftover debris to feed on, you can be more vigilant in running them away by brushing and flossing more often. Instead of just two times a day, consider performing oral hygiene after every meal. Your teeth and gums will thank you by remaining healthy and strong.
Try Out a New Hygienic Tool
Brushing and flossing aren't the only ways you can keep your mouth clean. Here are some supplemental methods you can try out as well:
Waterpik – If you have dental implants, this provides a way to get the same benefits as flossing. It shoots a stream a water between your teeth to help remove particles and bacteria that would otherwise remain hidden.
Mouthwash – After you've brushed and flossed your teeth, rinsing with mouthwash helps to remove any lingering debris, while also further aiding in freshening your breath.
Tongue scraping – Between the tiny bumps (papillae) that line your tongue, food particles and bacteria can become lodged. A scraper, which is designed to gently glide over your tongue, provides an added means of maintaining fresh breath and a clean mouth.
Drink More Water
You can't go wrong by drinking more water. Not only is it the most important key to maintaining total wellness, but it also plays an integral role in your dental health. At the start of your day, you should drink a glass of water before consuming anything else. It's also beneficial to drink water before and after a meal. You'll have better digestion, and it will help flush your mouth of oral bacteria and residue that may be lagging behind. Additionally, when your mouth remains moist, it makes it harder for harmful microorganisms to grow.
Because most dentists are currently only providing emergency dentistry, proper home dental care is more important than ever. By taking advantage of the extra time you have on your hands, you can feel confident that your oral health is protected until you can visit your dentist again!
About the Author
A graduate of the University of Texas Dental Branch in Houston, Dr. Richard Fossum is dedicated to helping his patients enjoy the best in dental health. Thus, he places an emphasis on educating each of them so they can be empowered. During the COVID-19 pandemic, Dr. Fossum is available to treat dental emergencies at Fossum Dental Group. He can be reached for more information through his website.