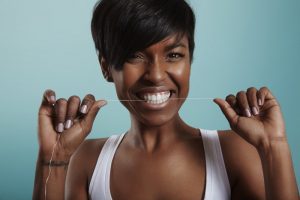 One of the best gifts you could offer yourself in the upcoming year is a commitment to your dental health. To make this happen, you'll need to double-down on your flossing habits. By making this one of your New Year's resolutions and being diligent in your daily practices, you'll be able to reap the benefits. Now that you're locked in, you just need a little help staying on track. Read on to get 3 helpful tips to send you motoring down the dental hygiene road in 2021!
#1 – Work on Your Technique
For some people, flossing can seem like a chore. But you can make it a lot easier on yourself by mastering your technique. It starts by extracting the right length of floss, which should be around 18 inches. Then, securely wrap each end around your middle fingers. With the material pulled tightly, descend between each tooth, and while forming a "C" shape with the floss, maneuver up and down. After freeing the debris, carefully move to the next tooth and repeat the process.
#2 – Stay on Schedule
If there is a place in your schedule where you typically have some down time, then dedicate it to flossing. For example, if after lunch you have a few moments to relax, this would be a great time to clean your teeth. Then, by making this part of a daily routine, you'll have yourself locked into a healthy habit that will benefit you greatly moving forward.
#3 – Get the Help You Need
Your #1 ally in your quest for excellent dental health is your dentist in Temple. That's why you shouldn't hesitate to get in for a checkup. There's nothing like being able to ask a trained professional any questions you may have face-to-face. Not only is it easier to retain what you learn, but you'll also receive extra encouragement to stay on track with your dental health goals.
The smallest tidbits of information can make a world of difference. Both your dental hygienist and dentist will have a wealth of knowledge to share with you. For example, you can get awesome pointers on how to better clean your teeth, or learn about products you never knew existed, that will make your dental hygiene efforts easier and more efficient.
Just know that every step you take in the direction toward excellent dental health is well worth the effort. By making the protection of your teeth and gums a part of your New Year's resolution (which is rather practical), you're already heading in the right direction!
About the Author
Dr. Richard Fossum has been shaping his patients' dental health for over two decades. A graduate of the University of Texas Dental Branch in Houston, he still strives for more knowledge through taking continuing education courses. Dr. Fossum uses his advanced training and years of experience to help his patients achieve the best dental health possible. He provides careful and compassionate dental care at Fossum Dental Group, and he can be reached for more information or to schedule a consultation through his website.