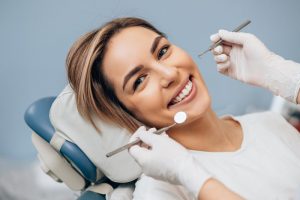 The beginning of the year is an exciting time, ripe with feelings of hope and renewed energy. You have a great opportunity to channel the positivity and make improvements in your dental health. It starts with scheduling a checkup with a dentist in Temple. Continue reading to find how beneficial this is and why it's important to act now!
A Way to Tackle Your Deductible
Most dental insurance plans renew coverage at the start of the year. That means you'll be responsible for a new deductible, which is usually around $50. Scheduling a dental checkup early in the year allows you to meet this requirement. This is the opportune time to do it because most plans cover 100% of the cost of preventive care. Thus, the deductible will be your only expense.
A Form of Dental Emergency Prevention
Dental emergencies are no fun, so it's in your best interest to do what's necessary to avoid them. Given that 60% of these situations are considered preventable, visiting a dentist early in the year will allow you to catch a developing issue sooner than later. In doing so, the problem can be treated before it becomes more complex and cause any unnecessary suffering.
A Way to Save Some Bucks
Every year has its share of unforeseen expenses. Therefore, it's important to save as much money as possible. Taking advantage of the full coverage provided for checkups and cleanings is a way to enhance "the bottom line."
Depending on the type of restorative care needed, the out-of-pocket contribution can be from 30-50%. Sometimes this is an unavoidable expense, but any preventive steps taken will decrease the chances of needing the more costly forms of dental care.
A Boost to Your Dental IQ
Preventive dental appointments are also educational. You'll have a chance to talk to the dental hygienist and dentist to get expert advice about ways to further boost your dental health. Many times, the changes you need to implement are subtle, but they make a huge impact when applied.
A Means of Establishing Rapport
You want to feel comfortable talking to and receiving care from your dentist and staff. Visiting early in the year is a great way to accomplish both goals. If you tend to be a little apprehensive about receiving dental care, this is your chance to get in and "break the ice." Therefore, you can feel relaxed at your future visits and continue to receive the valuable care that you need.
By taking a proactive approach to your dental health, you'll be able to enjoy strong and functional teeth and gums in 2021!
About the Author
Dr. Richard Fossum is a graduate of the University of Texas Dental Branch in Houston. For over 20 years, his formula for helping his patients maintain excellent dental health has been simple: to encourage preventive care as a key means of protection. A member of the Academy of General Dentistry, Dr. Fossum continues to expand his knowledge, so he can provide exceptional care. He practices at Fossum Dental Group, and he can be reached for more information or to schedule a visit through his website.