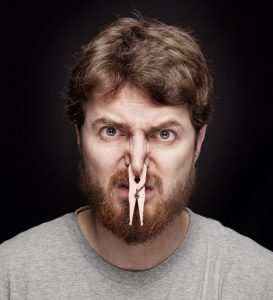 Bad breath is about as much fun as going to a concert for a genre of music you can't stand. You simply would choose not to go, so you should make the decision not to put up with bad breath, either.
It is mostly thought of as unpleasant for others to be around, yet more importantly, when you have bad breath it is typically caused by bacteria being present on your teeth and debris on your tongue. Essentially, unless it's from something you ate like onions or garlic, bad breath is a sign the environment in your mouth is not currently a positive one.
Keep reading to learn tips from your dentist in Temple about how to keep bad breath at bay.
Don't Use Tobacco Products
Smoking tobacco dries out your mouth to trigger bad breath. Even brushing might not help you get rid of the smell.
Floss Daily
Flossing at least once a day is important to remove food debris that a toothbrush can't reach. Skipping flossing allows bacteria to feed on what brushing left behind, which causes bad breath.
Brush Your Teeth Daily
Brush your teeth at least twice each day to remove plaque and food debris. A daily round of brushing with baking soda is a great idea because it eliminates plaque to help your teeth look cleaner and freshens your breath.
Brush or Scrape Your Tongue Daily
To remove residue that may have accumulated between your taste buds and the folds in your tongue, you can get a tongue scraper. Another option is to brush your tongue with a toothbrush.
Chew Sugarless Gum
The gum stimulates saliva flow, which is huge in the battle versus bad breath. Mint gum is also helpful for fresh breath.
Snack on Apples, Celery, or Carrots
Eating crispy fruits and vegetables gets your saliva flowing, which is important to fight bacteria. The saliva also removes food debris.
Stay Hydrated
Try to drink at least 48 ounces of water each day. This will help you avoid dry mouth. The water washes away food particles and bacteria to combat odor.
Visit Your Dentist Regularly
At least two visits to your dentist each year is crucial in the fight against bad breath. They can make sure you don't have any cavities while also doing a more thorough cleaning than you are capable of. If your dentist in Temple believes your bad breath is caused by an internal source like an infection, they may refer you to a specialist.
Bad breath is always hiding around the proverbial corner waiting to visit if you allow bacteria to flourish. Fortunately, you can be diligent about these steps each day and stay on top of your oral health so that it doesn't bring you down.
About the Practice
At Fossum Dental Group, our dentists are ready to give their all for your oral health. Dr. Richard Fossum has been doing just that for patients in Temple since 2004. He earned his dental doctorate from the University of Texas Dental Branch in Houston. Dr. Fossum is a member of the American Dental Association and the Academy of General Dentistry. Dr. Courtney Grosskopf joined the team in 2019 and she achieved her dental doctorate from the University of Texas Health Science Center in San Antonio. After dental school, a residency in Georgia provided her with extensive knowledge of dental surgery, implant placement, IV sedation, and providing dental care to medically complex patients. Our dentists don't like bad breath any more than you do, and they are ready to help you win that battle via your biannual dental cleaning and exam. To schedule an appointment, visit our website or call (254) 778-3900.