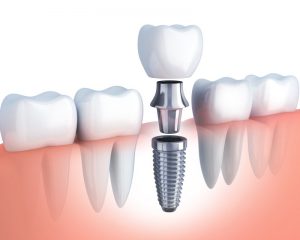 When you have missing teeth, there are several avenues you can pursue with your dentist, and all of them are better than taking no action. Many dentists will tell you that dental implants are the premier option for tooth replacement.
There are definitely some bad habits that can potentially ruin them, so read on to find out actions you should avoid after getting dental implants in Temple.
Using Your Teeth as a Tool
It may seem more convenient to use your teeth to do jobs like open packaging, pop open bottles, or cut through thread. However, your dental implants do not have a periodontal ligament to cushion them, so they are especially vulnerable to both pulling and twisting forces.
Biting Items That Are Not Foods
A common nervous habit that people have is chewing on things that aren't meant to be chewed on like ice cubes, pens, or straws. This can put too much pressure on your implants and even damage the bone that secures them.
Brushing Too Intensely
To keep your oral health in good standing, you need to be brushing your teeth at least twice each day. If you aren't brushing properly, this can be just as bad as not brushing at all. If you use too much force, you could damage both your protective enamel and gum tissue. To maintain strong dental implants, you must have healthy gums. Brushing too hard can cause gum recession over time. Be sure that you are using a soft-bristled toothbrush and applying gentle pressure.
Chewing Your Fingernails
This is a habit that can be difficult to stop, but it is worth taking the time to do so. When you bite your nails, you are bringing bacteria and viruses into your body in the process, increasing your chances of becoming sick. Even though your implants are exceptionally durable, they are not indestructible. Biting your nails can cause you to chip or break your teeth. It also puts pressure on your jaw when it protrudes for an extended period of time. You could even end up tearing your gum tissue. To discontinue this habit, try taking steps to reduce stress, use bitter nail polish, or invest in a manicure.
Smoking
Smoking can increase your gum disease risk. It also interferes with the regrowth of bone. Overall, it can double your odds of dental implant failure. If you quit smoking, you're more likely to have your dental implants for life.
Skipping Flossing
It's even more important to floss around your dental implants than to brush them. The main reason dental implants fail is they develop gum disease, and flossing is vital to removing plaque and food debris that can cause it.
Dental implants can make a significant difference for your smile, but you must put them in the best position to be a successful tooth replacement option. If you take care of them daily, they will help provide you with a great smile, plus you'll be able to chew your food more effectively and even talk more clearly. Visit your dentist in Temple for a consultation to get started on tooth replacement.
About the Practice
After more than two decades of providing care to patients in the Temple area, Fossum Dental Group remains committed to excellence with a highly trained and friendly staff, as well as state-of-the-art equipment. We are more than a service provider – it's also important to educate patients about their oral health and why certain treatments are needed. If you are interested in dental implants, we can offer the treatment process from start to finish in one location, we use cone beam imaging for highly precise implant placement, plus we welcome dental insurance and offer low-interest dental financing. To schedule a consultation and get started on the path to dental implants, visit our website or call (254) 778-3900.