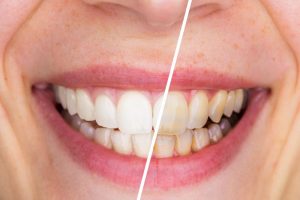 The days are getting longer, and the sun is shining brighter. You recognize this familiar feeling – the approach of summer. This is the time of the year when countless events are held, which makes the condition of your smile all the more important. If you're dealing with teeth stains or discoloration, continue reading to discover 4 reasons why now is the best time to have your teeth whitened by a dentist in Temple!
#1 – You'll be Camera Ready
Whether you're on vacation, at a graduation, wedding or summer barbeque, you can expect some pictures to be taken. Instead of worrying about hiding your teeth when you grin, having your teeth whitened can provide the necessary confidence to put your personality and ivories on full display.
#2 – You Can Boost Your Health
You've probably heard that it takes more muscles to frown than it does to smile. While there isn't any concrete evidence of this, smiling more has definitely been connected with experiencing better total wellness. It triggers the production of such health enhancing hormones as endorphins, dopamine, serotonin and oxytocin. Along with getting outside to absorb the rich vitamin D that comes from the sun, improving your smile this summer can do wonders for you!
#3 – You'll Attract New People
The summer months provide the perfect canvas for new connections. Whether through travel or at an event, at a first encounter, people can't help but notice the condition of your smile. Its appearance will make a lasting impression. With a set of bright-white teeth, you can feel comfortable in knowing that your smile conveys a message of friendliness, assuredness and attractiveness.
#4 – You'll See Immediate Results
There are several differences between store-bought whiteners and professional teeth whitening. Whereas the products you can purchase at your local retailer provide minimal results, at best, you can look forward to having your smile brightened by as much as eight shades when you visit a dentist for professional teeth whitening.
If you're a coffee, tea, wine or beer drinker, you may have developed teeth stains, leaving you feeling like you'll have to hide your smile for the rest of your life. Teeth whitening provides a way to finally restore your confidence and create the positive energy you desire. By taking action now, you can see remarkable improvements in your appearance and make this a summer to remember!
About the Author
A graduate of the University of Texas Dental Branch in Houston, Dr. Richard Fossum has nearly 30 years of experience practicing dentistry. An avid learner, he has completed several hours of continuing education to remain current with the latest advancements in dental procedures and technology. Dr. Fossum helps his patients get summer-ready by providing teeth whitening at Fossum Dental Group, and he can be reached for more information or to schedule a visit through his website.